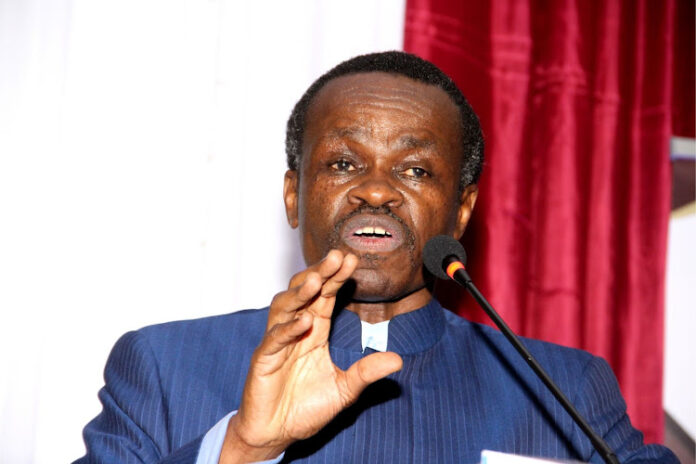 Kenyan Lawyer and Activist, Prof. Patrick Loch Otieno Lumumba, has said he supports the recent military revolts spiraling on the African continent, specifically West Africa.
He says it is the only means for many African nations to truly decolonise themselves from the French for instance who have vowed not to leave their colonies.
Speaking with Captain Smart on Onua TV/FM's Maakye Wednesday, September 6, 2023, the former Director of the Kenya School of Law said the other French West Africa colonies should observe what is happening across their neighbouring countries and emulate to free themselves from the whites who have placed people in power holding allegiance to the West more than their own indigenes.
He maintained that "all the French colonies should properly decolonise. The coups must continue" adding that "yes, I support the military interventions" when asked if he is okay with the recent uprisings ongoing on the bloc.
READ ALSO: Prof. Lumumba reveals how African leaders have proven Kwame Nkrumah wrong with IMF deals
There have been eight successful coups in West and Central Africa since 2020. In July 2023, members of Niger's presidential guard detained President Mohamed Bazoum inside his palace and appeared on national television saying they were seizing power to end the "deteriorating security situation and bad governance."
The head of the presidential guard, Abdourahamane Tiani, was declared the new head of state few days later.
In January 2022, Burkina Faso's army ousted President Roch Kabore, blaming him for failing to contain violence by Islamist militants.
Coup leader Lieutenant Colonel Paul-Henri Damiba pledged to restore security, but attacks worsened, eroding morale in the armed forces that led to a second coup in September 2022 when current junta leader Captain Ibrahim Traore seized power.
Special Forces commander, Colonel Mamady Doumbouya in September 2021, ousted President Alpha Conde. Alpha Conde had changed the Guinean constitution a year earlier to go for a third term which triggered the widespread rioting.
Chad and Mali have had their own share of the military insurgence in April 2021 and August 2020 respectively.
However, the Chadian president, Idriss Deby who was killed on the battlefield was replaced with his son which the military resisted afterwards. This was because the constitution required the Speaker of Parliament to be sworn-in as president.
The recent amongst the insurgences is that of Gabon in Central Africa ending the 43-year dynasty of the Bongo rule.
READ ALSO: We have crossed all the red lines which led to coup d'etats in the past – Asiedu Nketia