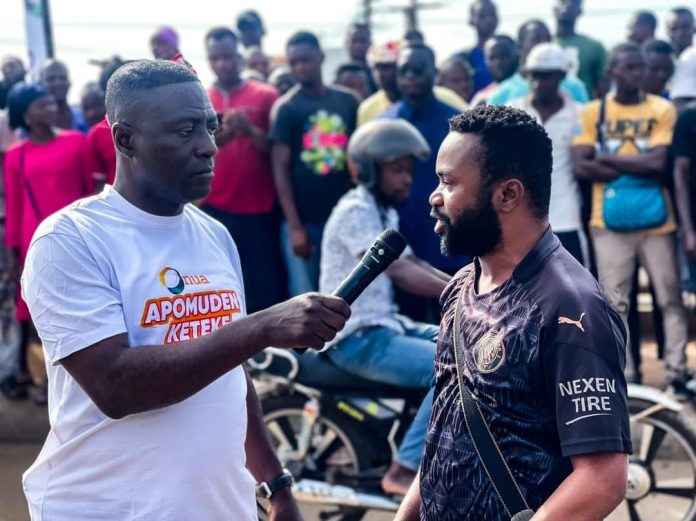 Onua Maakye's visit to Ashaiman to carry the Thursday, March 23, 2023 edition of its morning show, Maakye, there was an opportunity for residents to lay bare the many challenges confronting them to the government.
Some youth who got the opportunity to speak on the show underlined the series of challenges they are going through at Ashaiman.
To some, they need employment. After years of completing school, they have stayed home unemployed despite different governments promises to get them jobs.
Some street hawkers also lamented about the challenges they've been facing from the municipal taskforce locally referred as 'abayei'.
According to them, the least opportunity they get to sell their wares is interrupted by the taskforce making it difficult for them to make sales.
READ ALSO: 'We've been recording low sales since the soldier's murder -Traders at Ashaiman market lament
To the commercial vehicle drivers, their issue is the police arresting them haphazardly and seizing their licenses to extort monies from them.
"A policeman will stop you and ask for your license, you'll give it to him but once he's made up his mind to extort you, he will find problems with you and take your money," a commercial driver complained.
Some residents also complained that they only see their Member of Parliament and MCE when their communities get flooded. To them, their portion of the government's One District One Factory is flooding.
"We are grateful to the government for giving us our share of the one district one factory. Whenever it rains, we experience flooding here and that's our share of the One District One Factory," a disappointed youth shared sarcastically.
READ ALSO: Ashaiman residents have commended us, called us for more – GAF
Others also complained about the general cost of living asking government to do something about the economy.
Also, residents described the deplorable nature of the Ashaiman market as an eyesore despite the assembly being on their necks to always pay levies.
The discussion later turned into politics where people were apportioning blames to regimes.
After relaying the plethora of issues confronting them and blaming the ruling New Patriotic Party for doing nothing about their issues, members of the NPP chastised the opposition National Democratic Congress (NDC) saying Ashaiman has been their stronghold for many years, getting their party members in Parliament but failed to initiate any developmental projects.
READ ALSO: We've been recording low sales since the soldier's murder – Traders at Ashaiman market lament
By Felix Anim-Appau|Onuaonline.com|Ghana