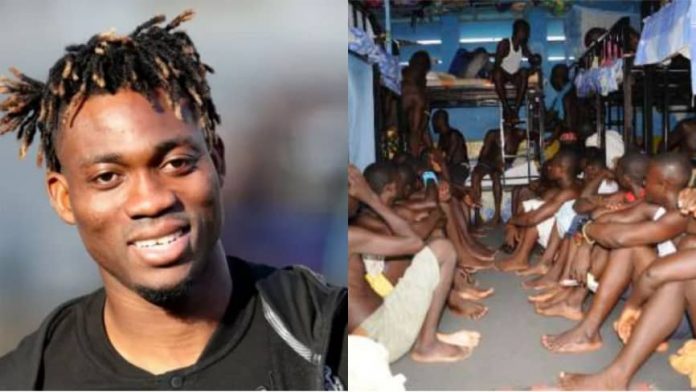 "It is not what we leave behind, it is what we leave in people's hearts that counts" was the anonymous quote made by the Assistant Director of the Nsawam Prisons Thursday, March 16, 2023, to depict the relationship that existed between them and late Christian Atsu.
Nii Armah Aryettey during his speech at a farewell match at the Nsawam prisons park for the fallen icon between the officers and inmates said "the Ghana prisons service became a welcoming home to our brother Christian Atsu through his philanthropic activities to prison inmates across the country."
READ ALSO: 'We will continue to build for God and country' Anas
According to Mr. Aryettey, Atsu's benevolence and humility was not limited to the prisons but generally the vulnerable in society.
31-year-old Atsu Twasam prior to his demise helped paid for fines of over 100 inmates, about half of whom he aided to establish to be able to cater for themselves and their families.
"As a young celebrated icon, Atsu was very humble and showed love to all including the vulnerable in society. He singlehandedly paid for fines for 113 prions inmates who were sentenced for committing petty offences.
"Atsu did not only settle the fines of these inmates to give them freedom and hope in life but also reintegrated 46 of them by supporting them financially to start their own businesses and be able to cater for their families."
The deeds of the ex Hatayspor, Chelsea, Everton, AFC Bournemouth and other clubs' star was not limited to the direct impact of the individuals but their holistic wellbeing as "he financed the grading and leveling of the Awutu Camp prisons soccer pitch and donated assorted food items to the inmates."
READ ALSO: 'Beloved father and husband, it breaks my heart to lose you' – Marie-Claire Rupio's tribute to late Atsu
Atsu's "unconditional love and support" according to Mr. Aryettey will forever remain in their hearts even after his demise due to the impact he had on their lives.
The late Christian Atsu was laid to rest at the forecourt of the State House Friday, March 17, 2023 following his demise in Turkey.
He was trapped under a rubble after an earthquake struck southern Turkey and northern Syria claiming over 50,000 lives.
READ ALSO: Kwesi Appiah wants a monument in Atsu's hometown in honour of late footballer's memory 
By Felix Anim-Appau|Onuaonline.com