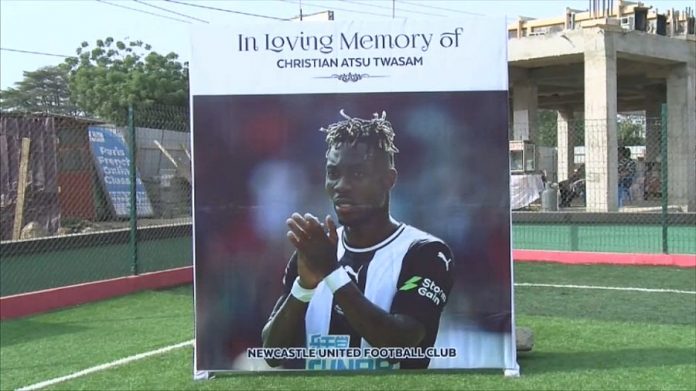 Leadership of the Nsawam Prisons Service has revealed that the late "Christian used his status as an international sports icon to advocate for the passing of the non custodial sentencing [Bill] to help decongest the prisons."
Shelved for nearly a decade, the Bill, among others, seeks to change the course of offenders' behaviour by instilling in them a sense of moral obligation to their communities.
Besides its purpose of decongesting the prisons, it would also ensure that offenders such as parents and caregivers would carry out their punishments without being separated from their families for years, as is the case under the custodial sentencing system.
READ ALSO: 'Christian was a Christian' – Atsu's manager shares late player';s life off the pitch
The Bill is an alternative to a custodial sentence for convicted offenders of some crimes and would see offenders rendering unpaid public work within a community for a period not exceeding the term of imprisonment for which the court had sentenced them.
With his benevolence and philanthropy towards the vulnerable in society, the late Christian Atsu aside from paying for fines of some inmates who committed petty offences, pushed for the bill to be passed to create a conducive environment in the choked Ghana prisons.
At a farewell match between inmates and officers at the Nsawam prisons park Thursday, March 16, 2023, Assistant Director of the Nsawam Prisons, Nii Armah Aryettey told Onua FM's Bismark Kwaku Sarpong that the late footballer's unconditional love and support for prisoners will forever remain in their hearts despite his demise.
He said his benevolence extended beyond inmates at Nsawam to other places across the country.
READ ALSO: 'This is bigger than football' Kudus explains why he wasn't penalised for paying tribute to Atsu
"As a young celebrated icon, Atsu was very humble and showed love to all including the vulnerable in society. Christian used his status as an international sports icon to advocate for the passing of the non custodial sentencing to help decongest the prisons."
"An inmate in Kumasi Central Prisons also benefited from his philanthropic activities as he bought a drilling machine for the inmate," he disclosed.
Mr. Aryettey indicated inmates across the country chose to mourn Atsu's demise due to the impact he had on their lives.
"It is by this love that inmates all over the country mourn our beloved brother and friend for his unconditional love and support to their daily existence in the prisons.
READ ALSO: Atsu paid for fines for 113 inmates, established 46 of them – Assistant Dir. of Nsawam Prisons
"The Ghana Prisons Service had a very cordial relationship with the late Christian Atsu Twasam and his relationship will not end with his departure. Those who touch our lives stay in our hearts forever," he concluded.
Atsu died in Turkey after he was trapped under a rubble resulting from an earthquake which claimed over 50,000 lives in Turkey and Syria.
READ ALSO: Meet the Dutch referee who bent the football rule for Kudus in honour of Atsu
By Felix Anim-Appau|Onuaonline.com