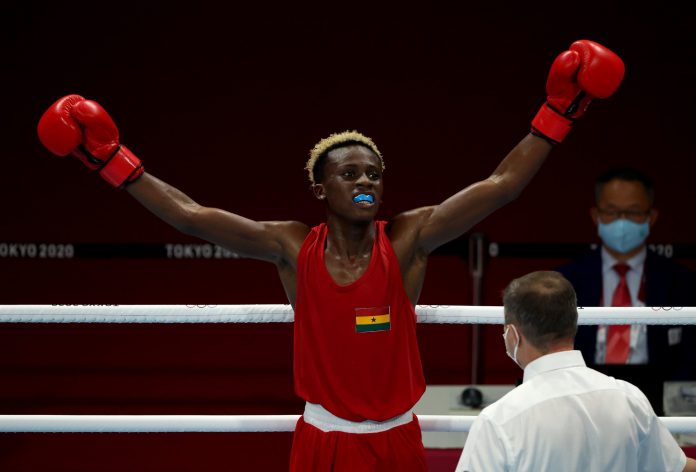 <![CDATA[
Samuel Takyi has won his Olympic quarter-final to guarantee himself a medal at Tokyo 2020, a first Olympic medal for a Ghanaian athlete in 29 years.
Takyi beat Colombia's 32-year-old southpaw David Ceiber Avila, a far more experienced fighter, in the quarter-final, taking two of three rounds to send the Ghanaian contingent in the stands wild.
Similar celebrations were happening across Ghana on a historic day in the ring, and they may get louder as Takyi moves on to the semi final where he'll face the USA's Ragan Duke  .
Duke eliminated Irish boxer Kurt Walker in his quarter-final bout.
The 20-year-old has caused a sensation by making the podium after his selection for the boxing team in Tokyo initially caused eyebrows to raise.
Now it's hands in the air as "The Golden Ring Warrior" has brought it home, the first Olympic medal since the football team won bronze at Barcelona 1992.
And the first boxing medal since middleweight Prince Amartey who took the bronze in Munch 1972.
Takyi joins Ghanaian Olympic greats Clement Quartey, a light welterweight who won silver in Rome 1960, Eddie Blay a bronze light welterweight medallist from Tokyo 1964 and Prince Amartey who made history in Munch 1972.
Now it's Takyi's time.
Samuel Takyi's path to the podium
He didn't even like boxing when he was younger, football was his thing, but when he slipped on the gloves for the first time it was game over for football and boxing was suddenly all that mattered.
Honing his skills at the Discipline Boxing Academy in Accra, Takyi quickly proved he has what it takes at international level.
He defeated the top-seeded featherweight Mohamed Hamout of Morocco at the the 2020 African Olympic boxing qualifiers in Dakar, Senegal.
And also bounced back from defeat in the semi-finals to Everisto Mulenga by beating Isaac Masembe of Uganda to finish in third place in the qualification tournament, punching that ticket to Tokyo.
In the preliminary round of 32 the young boxer received a bye.
In his round of 16 bout Takyi outclassed Ecuador's Jean Carlos Caicedo, a unanimous decision taking him to the quarter-finals.
Takyi turns the tables in quarter final battle
His biggest challenge came in the quarter-finals against Ceiber Avila, the Colombian was eliminated at Rio 2016 before the medal rounds and was all out to make it count in what is likely his last Olympic Games.
Ceiber came out swinging, the much smaller fighter, he stayed in close and tried to negate Takyi's height and reach advantage, smashing Takyi with body shots and surprising Ghana's great hope with his work rate.
It was tenacious stuff from the Colombian whose punches-per-minute rate was off the charts, and the Colombian won the first round unanimously.
Takyi had to respond and stop the swarm, doing much better in the second round, upping the intensity, moving out of range of Ceiber's wild swings and inside body work.
The Ghanaian took round two by 3-2 to leave himself a chance, 1-1 going into Round 3.
But it looked like it was going the veteran's way as he tied up Takyi in the final round, spoiling and dragging and running down the clock.
But Ghana's man has a maturity beyond his years, finished really strong, Ceiber Avila hanging on, trying to run down the clock, the young star grew, exploding into the final minute to land the punches that mattered.
He convinced three of five judges and that was all he needed.
The Ghanaian's star is on the rise, and now he'll have more than 30 million people in his corner him as he fights for a shot at Ghana's first ever gold medal on Tuesday.
When is Samuel Takyi fighting?
Samuel Takyi vs. Duke Ragan Tuesday 3 August 11:30am JST
Ghana's gold-medal threat Samuel Takyi will fight the USA's Duke Ragan on Tuesday 3 August 11:30 JST.
That's Tuesday 3 August 2:30am in Ghana.
Source: Olympics.com
]]>