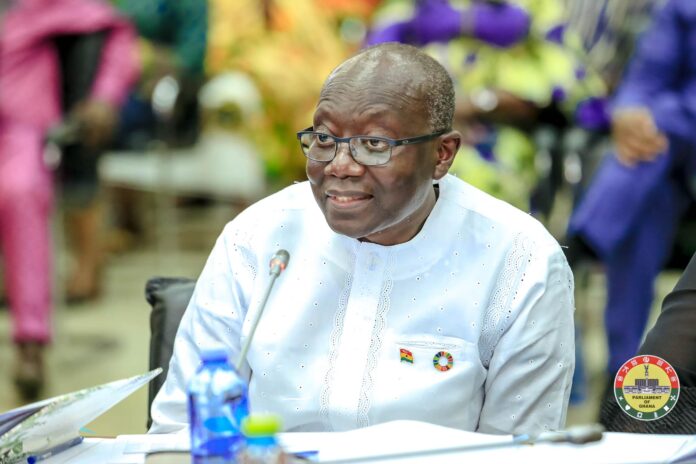 Finance minister Kenneth Nana Yaw Ofori-Atta has insisted government is not going to undertake a second round of the Domestic Debt Exchange Programme despite a leaked offer letter to pension funds managers with his signature stating otherwise.
Mr. Ofori-Atta has, however, said Organised Labour would need to support the government in reducing its debt burden to restore the economy.
He spoke exclusively to TV3's Sani Abdul-Rahman on the sidelines of the Spring Meetings in Washington DC in the United States.
READ ALSO: Man breaks up with girlfriend for getting lapdance from Chris Brown
The individual bondholder groups who battled government over their earlier inclusion in the programme before their exemption started raising concerns over the offer letter that got leaked.
Meanwhile, Managing Director of the International Monetary Fund (IMF), Kristalina Georgieva, is optimistic that the fund's Executive Board would grant final approval to Ghana's bailout request soon.
Ms Georgieva said at the Spring Meetings in Washington D.C. that her optimism stemmed from the swelling goodwill that the country was getting from the international community, including its creditors.
READ ALSO: NSMQ Mistress frowns on traditional ways of teaching science related subjects in schools
She told journalists at the Meeting Thursday, April 13, 2023, that the IMF was speaking to the bilateral creditors to expedite the financial assurance need by the Fund to approve the deal.
Ghana has already secured a staff-level agreement (SLA) for the $3 billion bailout in December 2022 but has not gone past the final lap due to bilateral creditors reluctance to give financial assurance over the terms of the debt restructuring exercise.
Rahman reported from the Spring Meetings that a deal in May was closer as China softened its stance on the need for multilaterals to share debt losses.
READ ALSO: Kasoa: Residents resort to defecating in 'polythene' bags due to increase in toilet fees
The IMF MD, when asked about when Ghanaians should expect a deal, said: "We have been urging Ghana's creditors to act swiftly."
"To tell you the truth, I am optimistic that we are going to move swiftly and so stay positive," she said.
By Felix Anim-Appau|Onuaonline.com