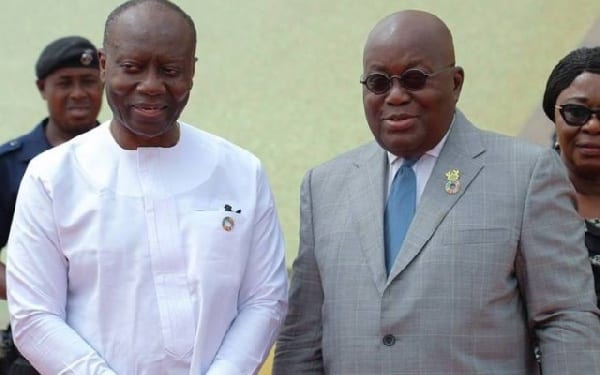 Few days after Finance minister Ken Ofori-Atta said there was no need for Ghana to rush to the capital market after securing the $3billion credit facility from the IMF, President Addo Dankwa Akufo-Addo said otherwise at a Qatar-African Economic forum in Doha.
To Economist and Financial Risk Analyst Dr. Theo Acheampong, the President and the Finance minister's contrasting public pronouncements came as a result of "policy incoherence and inconsistencies" that has characterised the government.
He says over the years, "when government officials say something, then there is some contradictory statements from another government official."
He, however,  sided with Ken Ofori-Atta whose stance indicated Ghana needed not to rush to the capital market after securing a deal from the International Monetary Fund (IMF).
READ ALSO: Ofori-Atta's Databank withholds students' fees; says Ghana is facing macroeconomic challenges
"On this very issue, I think the Finance minister is right and the President was wrong and we just need to be frank about these conversation because many of the market players and the people that I interact, the priority now they're looking at is, how is Ghana going to implement this IMF programme and where would be the trade offs in terms of labour, cost of living, the utilities that have to go up, for business, what kind of new taxes, if any, should they expect. So their market expectation is for the government to show commitment as to how they are going to implement the IMF programme," he explained.
Speaking about the sentiments in the market, Dr. Theo Acheampong said it is to "show us what you've done so far and show us what you're going to do in this programme to ensure that;
a. Your debt is sustainable or on a sustainable path
b. You'll be able to grow the economy
c. You'll be allowed to allow that the offshoot of that growth would be felt at the micro level where you reduce poverty, you reduce inequality. That's the sentiment on the market not the idea that you'll be going back to the market to borrow should conditions improve."
According to him, such utterances such as the President's just sends the signal that Ghana hasn't learnt from the mistakes that took the state into the economic quagmire the country finds itself.
READ ALSO: Kamala Harris's visit to focus on economic growth, investment in Africa