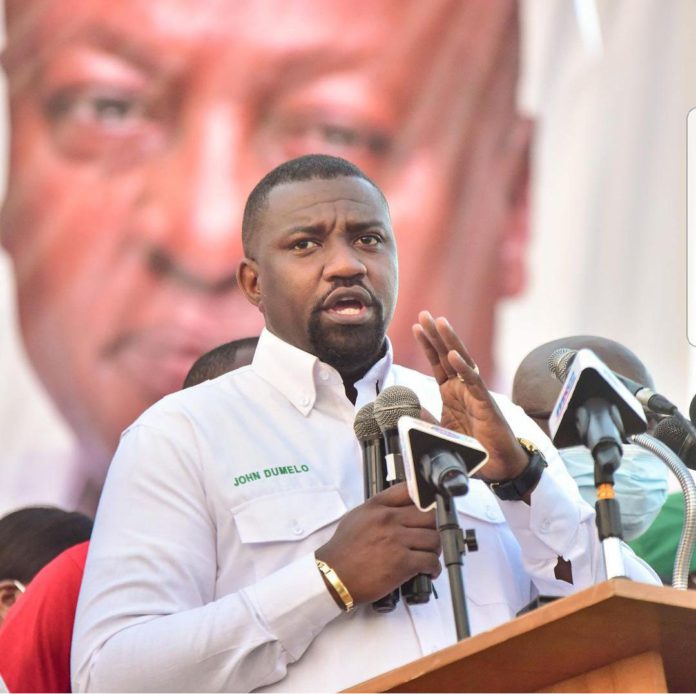 A decision to ditch the Ayawaso West Wuogon (AWW) contest for that of Guan/Santrokofi, Akpafu, Lolobi and Likpe (SALL) in the Volta/Oti region is a palpable lie, actor John Dumelo, has debunked.
The actor who is also into farming says he has never changed his mind on contesting for the seat he fought so well for over the last election.
His comments come on the back of claims made by a colleague in the showbiz industry, Fred Nuamah, who has picked nomintations to contest him at the primaries, that, Mr. Dumelo is no more interested to run for the AWW NDC Parliamentary Candidacy.
Fred had said John informed him of going to contest the SALL seat and even gave him his blessings, the reason he went to pick nominations.
Therefore, to step down at this moment as some calls are suggesting is not an option on the table.
"Frankly, it's late to step down. My brother informed me and a lot of people that he was not going to contest the Ayawaso West Wuogon Constituency again. He gave me his blessings when I made up my mind to contest," Fred is quoted from Graphic showbiz.
Fred Nuamah additionally expressed his surprise when Dumelo turned around to say he is contesting.
"Truthfully, I am surprised about his u-turn because it was evident and crystal clear that he was not going for the Ayawaso seat anymore and rather invested in Guan/SALL," he said.
But Dumelo says "everything" in Fred's interview with Graphic Showbiz, "was full of lies."
He has described Fred's decision to contest him as "a stab in the back."
According to the actor, he never discussed with anyone of an intention to ditch the seat.
He says the ongoing rumours about a discussion he had with Fred in the presence of Yaw Sakyi about his disinterest in the contest is also a falsity.
After knowing each other for 20 years, he never expected that from Fred who was well aware of his (Dumelo) stake in that seat.
READ ALSO: When the Speaker was practicing law, you were selling spare parts – Murtala slams Majority Leader
Speaking on United showbiz Saturday, March 11, 2023, Mr. Dumelo indicated, "I never had a conversation with Yaw Sakyi about Fred. I can never give Fred Nuamah my blessings. To do what? To come and contest Ayawaso when he knows that I will contest there, why would I do that?"
He added that, Fred attended a surprised birthday party his friends organised for him in February and released his flyers that very evening.
According to John, he received a long text message from Fred "trying to explain things." But Mr. Dumelo said he was stunned to have seen such a move from someone he has known for 20 years and that to him was "a stab in the back."
John Dumelo won the Ayawaso West Wuogon primaries in 2019 by triumphing over then incumbent PC Delali Kwasi Brempong.
READ ALSO: AWW violence: NDC gives government 30-day ultimatum to compensate victims
However, he got defeated in the main elections by the New Patriotic Party's Lydia Seyram Alhassan who was the incumbent through a bye-election that occurred few months to the general elections, following the demise of then Member of Parliament, Emmanuel Kyeremanteng Agyarko.
Dumelo lost the contest by votes a little over 2,000 and is optimistic a comeback would do the magic for him after making consultations with the people that matter.
READ ALSO: Ayawaso West Wuogon: Dumelo announces second coming
By Felix Anim-Appau|Onuaonline.com