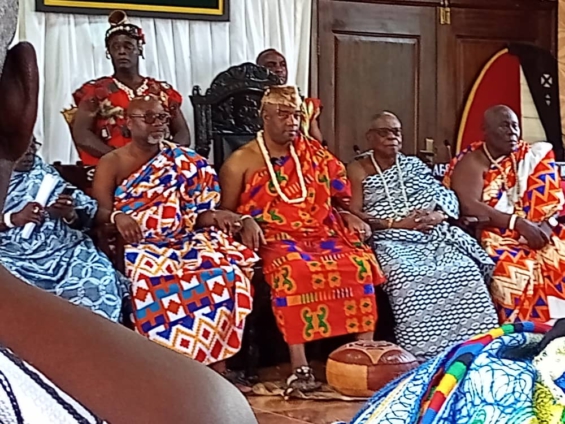 The Ga traditional Council , has announced to the general public that this year's ban on drumming and noise-making in the Greater Accra Region commences from Monday, May 15 to Thursday, June 15, 2023. 
The ban which is an annual traditional rite that precedes the celebration of the Homowo Festival referred to as Odadaa by the chiefs and people of Ga Mashie, requires silence and tranquillity for more than a month after the ritual planting of the crops.
Public Relations Officer of the Ga Traditional Council, Nii Abbossey Asikogya addressing the media in Accra Thursday, April 20, 2023, stressed that the ban affects all form of church activities with drumming and noise making, funerals, open Evangelism and other activities associated with noise making.
READ ALSO: Don't pay illegal bailing fees – Legal Practitioner advises vagrants
He indicated that a taskforce has been formed to work with the Regional Security Council and the Ghana Police Service to ensure strict compliance.
"The Ga state will commence activities preceding the celebration of the annual Ga Homowo festival. The Ga Traditional Council announces to the public that the 2023 Ga Homowo Festival commences with the Shibaa that's cleansing the sacred farm, on Monday, the 8th day of May, 2023.
"This will be followed by the ban on drumming and noise making on Monday, the 15th day of May 2023. During this period, the Ga state will fast and pray for rainfall, a bounty harvest and good tidings. The Ga state will also pray for the country and its citizens to continue to keep the peace, the love, tranquility and good spirit," he stated.
READ ALSO: Amansie South: 5 arrested as district intenfies clampdown on illegal miners
Source: Onuaonline.com|Ghana