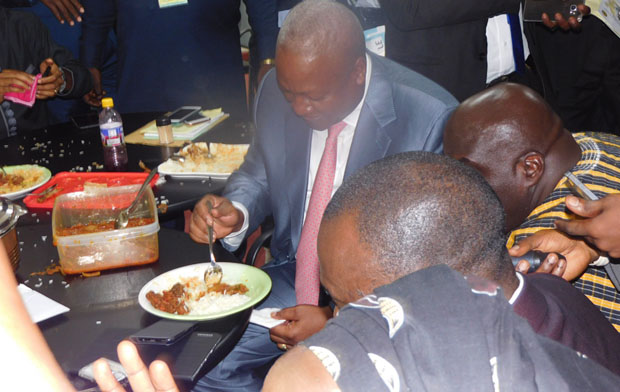 John Dramani Mahama has observed many Ghanaian men cannot provide adequate housekeeping money for their families due to the economic hardship confronting the state.
The former President says people are not able to properly cater for their households due to the unpopular policies implemented by the NPP government that has burdened the citizenry with hardship.
The 2024 National Democratic Congress flagbearer hopeful who was speaking on a campaign tour in the Okai Koi North constituency of the Greater Accra region Thursday, April 20, 2023 said Ghanaians are calling in the NDC to come rescue the situation since they cannot bear it anymore.
READ ALSO: Asiedu Nketia's presence in Parliament might have angered some MPs to vote against party's directive – Prof. Abdulai
"And so Ghanaians are counting on us to rescue them. Times are hard. Inflation is high. Prices of things are going up everyday.
"When we give money to our wives to go to the market, the prices of things are so high that when they go they come with a little foodstuff.
"The food they cook is not enough to feed their husbands and their children. And the husbands too are in problem. Some have lost their jobs.
Others too because of the hardship they cannot increase chop money," he observed.
Mr. Mahama also used the opportunity to explain to the delegates how prudent his government was in terms of adding to the debt stock of the state.
READ ALSO: The value of the Cedi shows there is no wise person in the NPP – Captain Smart
According to him, the NPP government under President Akufo-Addo alone has added four times of what previous administrations had incurred since since independence.
"All the development work that we did in this country, we used only GH₵54 billion.
By the time we left office the total debt of Ghana from Nkrumah's time till I left office was GH₵120billion.
"Today our debt is almost 600 billion cedis and I always challenge them, nothing to show for it.
Just take Okai Koi North, what new thing has happened here in Okai Koi North since 2017? And even the few things that we were doing, the development projects we were undertaking in this area, when they came into office, it all came into a standstill," he said.
READ ALSO: 'I cannot be elevated without fighting demons' – Kusi Boateng's first message in church after double identity allegations
By Felix Anim-Appau|Onuaonline.com