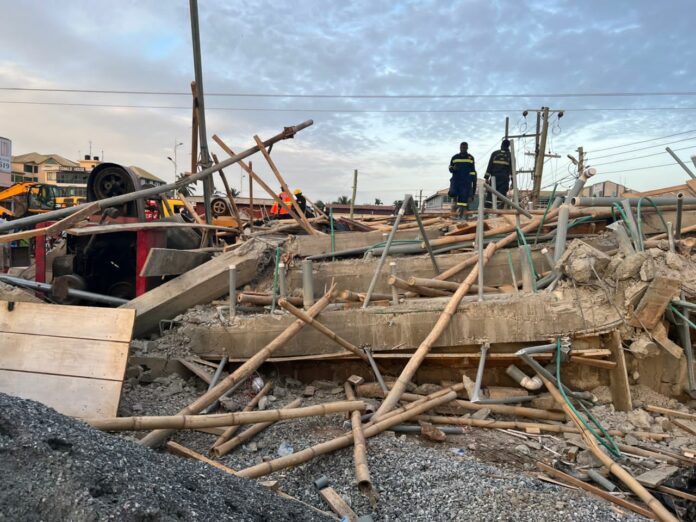 The Ghana Institute of Engineering (GIE) has frowned on poor building practices in the country. They have expressed fret over total neglect of the engineering Council Act (Act 819) by developers.
The Engineering Council Act (Act 819) requires that all construction projects must be overseen by qualified, experienced and licensed professionals who have knowledge and the expertise to ensure buildings are safe and structurally sound.
The Institute's comment comes after a collapsed building at Adentan in the La Nkwantanan municipality that claimed one life and injured another on Monday, May 1, 2023.
The destroyed three-storey building is alleged to have been erected within a month while the developer is said to have apparently ignored the highest standards of engineering practices.
READ ALSO: Collapsed building kills mother and daughter at Sehwi Bekwai
READ ALSO: A/R: Rainstorm ripps off school building at Sekyere Kumawu
Chairman, Civil Technical Division at the Ghana Institute of Engineering, Ing. Michael Obeng Konadu speaking in an interview with Onua News at a visit to the scene urged developers to prioritise safety and involve professional engineers in every stage of building.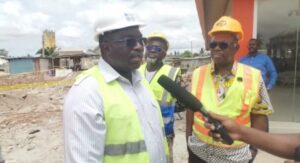 He challenged government agencies involved in approving designs and monitoring construction projects to employ professional engineers.
Failure to do so, according to him, could lead to a catastrophe as witnessed at Adantan and other places.
Ing. Obeng Konadu expounded that the Institute is committed to working with regulating bodies and industry partners to improve standards in the construction industry and to ensure that the public is protected from unsafe buildings.
He further advocated for the engineering council act to be fully enforced.
He, however, stressed that the Ghana Institute of Engineering will continue to push for the involvement of professional engineers in all construction projects to help promote the importance of adherence to building codes and regulations.
READ ALSO: [VIDEO] Stop the galamsey behind your palace – Captain Smart charges Okyenhene
By Maxwell Otoo|Onua FM