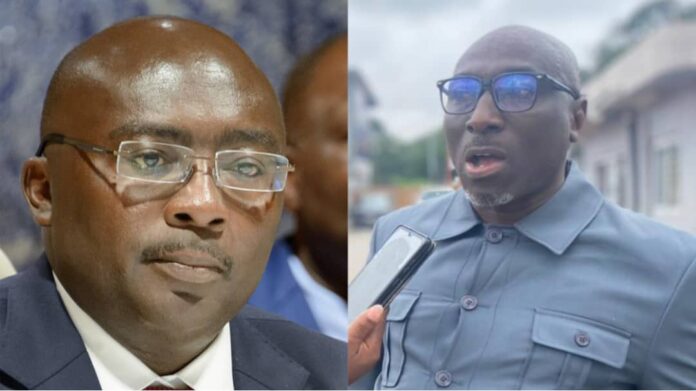 The National Democratic Congress' (NDC) Conflict Resolution Director, Abraham Amaliba, has given insight into how they will outsmart Vice President Dr. Mahamudu Bawumia, should he be chosen to lead the New Patriotic Party (NPP) for the 2024 general elections.
He explains the things the Vice President said at the 2016 and 2020 electioneering periods are enough to nail him to the ground without necessarily mounting any serious campaign against him.
He has been telling OnuaOnline's Felix Anim-Appau how the NDC intends outsmarting Dr. Bawumia with his own words.
"Dr Bawumia actually is the one that can easily be beaten. All you need to do is not to campaign but to put his words and the things he said before coming to power on a van with loud speakers and then it will be blaring and annoying the people. For instance, you put the statement; "I will give every constituency one million Ghana Cedis" and then it will be on loud speaker, blaring it. He is the one easy to beat, that alone will damage him" he stated.
READ ALSO: 'Christianity has increased poverty in Ghana' – Textbook for primary 4 pupils sparks controversy
The legal practitioner also gave his submission on the five candidates he thinks will be elected for the final election in November. He admitted some of the candidates have good striking cause whilst others will not sell because of their current positions and their abysmal performance.
"Dr Bawumia will be elected, Alan kyerematen will be elected, Kwabena Agyapong will be elected, Kennedy Agyapong will be elected and then Boakye Agyarko will be elected." he proposed.
He further elaborated that his main focus is not on the super delegates conference, but rather, the November election is what he is looking up to.
"The real deal is in the November election that is where my focus is''
He concluded if Alan is elected, they have a strategy for him but he will not disclose it in the meantime.
"I cannot discuss our strategy in the public. It is because Dr. Bawumia is so obvious. It is so obvious that every Ghanaian can see. For Alan Kyerematen, we have a strategy for him but I am not putting it out there for every Ghanaian to see," he noted.
READ ALSO: Election 2024: Amaliba is confident NDC can defeat Bawumia without campaigning
By Tenisha Darryl-Lartey|3News|Onuaonline.com