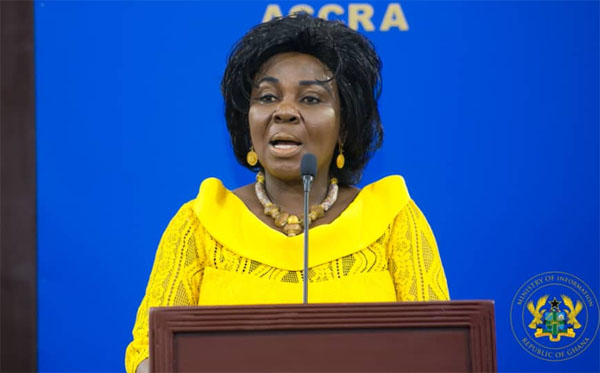 Cecilia Abena Dapaah says she did not compromise on her integrity whilst serving the state as a minister.
The Sanitation and Water Resources minister who has tendered in her resignation says she is hopeful that any probe from state agencies into the scandal in her home will exonerate her.
In a letter issued Saturday, July 22, 2023, announcing her resignation, she said she doesn't want government business to be affected by what has happened in her home, emphasising that the figures in the public domain are not a true reflection of what she reported.
"Whereas I can state emphatically that those figures do not represent correctily what my husband and I reported to the Police, I am very much aware of the import of such stories around someone in my position.
READ ALSO: Akufo-Addo signs economic, defence pacts with Rebelo de Sousa as Ghana-Portugal strengthen ties 
"I am resigning therefore because I do not want this matter to become a preoccupation of government and a hindrance to the work of government at such a crucial time.
"I have no doubt whatsoever that at the end of the processes, it will be fully established that I have conducted myself with integrity during my period in public service and I will be fully exonerated from all the allegations that have filled the public domain in the past 24 hours," she stated in her letter.
The former special assistant to ex President John Agyekum Kufuor who also served as a minister in his administration says she is ready to cooperate with all state agencies for investigations into the matter.
The Minister and her husband reported a theft case that occurred in her house in June 2022 where their two househelps made away with a million dollar, €300k, millions of Ghana Cedis and several items according to the facts on a charge sheet circulating on social media.
The value of the money that was kept in her home raised eyebrows making people call for probe into her source(s) of income.
Prior to the letter making her resignation public, several calls had come for her to do so including or be suspended from her position by the President.
READ ALSO: Money hoarding scandal at Minister's bedroom; Kpebu calls for Cecilia Dapaah's suspension for probe into source of income