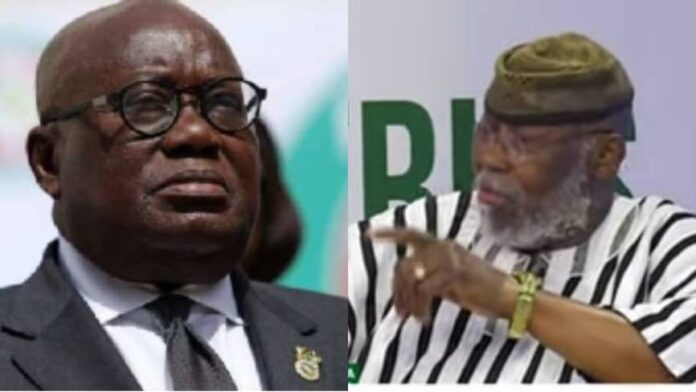 Dr. Nyaho Nyaho-Tamakloe, a founding father of the New Patriotic Party (NPP), has suggested that President Addo Dankwa Akufo-Addo lacks integrity.
He says the President's continuous defense of his appointees even when their poor performances are glaringly obvious is an indication of his integrity deficiency.
Whilst contributing to a quarterly discussion on Thought Leadership, a programme organised by 3Business Wednesday, August 9, 2023, Dr. Nyaho-Tamakloe indicated that any leader that refuses to sanction his appointee for failing a given assignment lacks integrity.
"A leader must know his people and know what they want. He must have integrity," he said.
READ ALSO: Where is your integrity? – KKD blasts Ofori-Atta after recalling minister's 10yr-old lecture on integrity deficit
When asked if President Akufo-Addo and his appointees have integrity, he said "absolutely no", adding that, "if a leader assigns a duty to you and finds you incompetent, he removes you. Our biggest problem in Ghana is the inability of the Ghanaian leader to say no on principle. The culture of resignation, we don't know it."
When host Alfred Ocansey reminded him that the "President has always defended his appointees, reviews their performance on a daily basis, they are doing well. They are meeting his expectations", his response was, "that's why I used the word integrity. If he has, he will never dare. You're not doing well as a leader. Your subordinates are not doing well, this is known to every Ghanaian, even children and all that. This country is running on autopilot at the moment."
READ ALSO: Atta Mills was a man of integrity; didn't need millions of dollars in his house to survive – Mahama