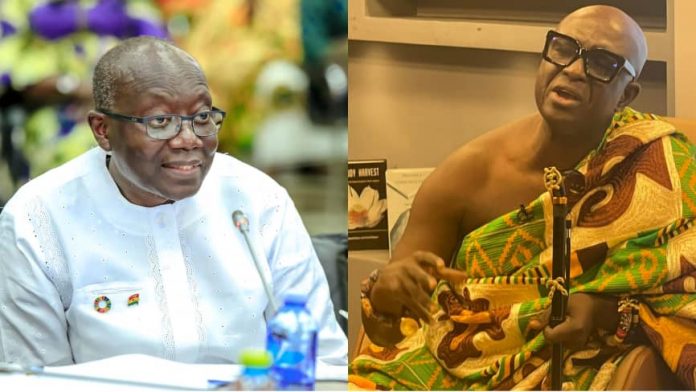 Media brands expert and ace broadcaster, King Kwasi Kyei Darkwah, has hit back at the government and leadership of the Ghana Broadcasting Corporation (GBC).
Mr. Kyei Darkwah had revealed on Onua TV that management of GBC has banned him from appearing on their television channel, GTV.
According to him, the decision was taken as a result of his criticism of the government and spelling the conflict of interest the Finance minister, Ken Ofori-Atta is indulging in, which his cousin, President Akufo-Addo, is looking on.
Following the revelation, management of the corporation confirmed that they indeed took him off their screens for the purpose that the "GBC is guided by the ethics of public service broadcasting journalism. We do not allow our guests to make allegations against other persons who are not present, or do not have the immediate opportunity to respond."
READ ALSO: Council of State a useless institution – Prof. Gyampo
"We are also not into adversarial journalism, and panelists who adopt a combative style of discourse are not accommodated on GBC's network. GBC provides opportunities to panelists of all political persuasions to speak on our platforms and may retire them when there is a change in our content plan.
"We also retire panelists who over time change their style of discourse into a form that is unbefitting of GBC's editorial guidelines," the statement issued by the GBC spelt.
Reacting to the issue Wednesday, March 22, 2023, KKD as he is affectionately known in the media espoused the absurdity in the decision by the GBC management considering the public good of what he stood to defend and those the GBC are protecting.
According to him, it is insanity for the GBC to speak about ethics and take him out of their screens because he is exposing state officials who are indulging in conflict of interest.
Speaking in Twi, KKD responded.that:
"…Then you issue a bogus press release which an intern in my office will not even write that, he (KKD) was not banned by the government but was taken out as a result of our ethical issues.
Let me explain the ethical issue to you. One of the things is that, you can choose the lesser evil, but the wise person chooses the greater good.
READ ALSO: 'Any fool can speak truth to the poor and needy but only the wise can speak truth to power' – KKD responds to Adom-Otchere, others
"But there is this person that is plunging the nation into debt and slavery so that his company will make profit and the President who is a lawyer haa kept mute on it including some MPs who are also lawyers and kept quiet for the act to perpetuate for six years.
"I decided to hold on earlier because I was told he owed the President but later when I saw the figures, it wasn't a hearsay anymore because there were documents backing the six years of conflict of interest. And a government that claims to be honest, truthful and to be calling people to action, to describe Mahama as incompetent because we owed 7 billion at his time [should.not be seen doing this].
"So that's what I said that, if you're choosing the lesser evil which is the truth I spoke and their thievery –because the conflict of interest in the Twi language is thievery, [then there is a problem].
"In my house, he who shares the meat chooses last. It is only in the house of fools that the person that shares the meat chooses first. If you think there is some good money in your business, do it. Don't tell us you're stopping to work for the government at a ministry," he fumed.
READ ALSO: Ofori-Atta is more powerful than the entire government machinery – Oduro Takyi
By Felix Anim-Appau|Onuaonline.com