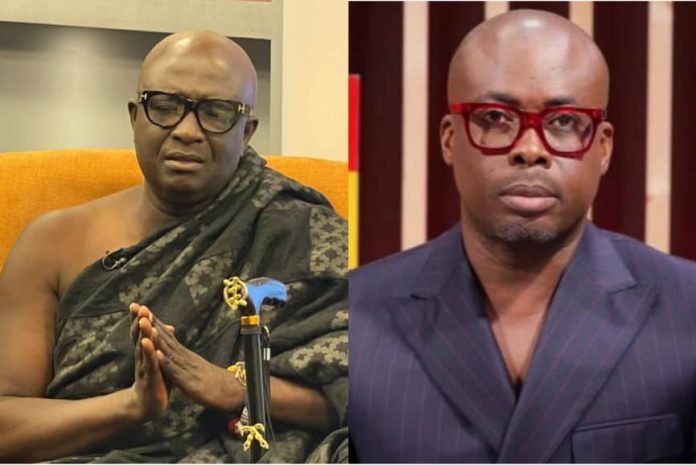 Paul Adom-Otchere, host of Good Evening Ghana had disparaged Kwasi Kyei Darkwa on his show, for the latter's criticism of the Finance Minister's engagement in conflict of interest.
Mr. Kyei Darkwa on GTV's breakfast show had called Ken Ofori-Atta names for being selfish, greedy, unpatriotic and a thief amongst other descriptions, for selecting his own company, DataBank as a financial advisor to government where it enjoys 9.6% of all bonds the NPP government has raised on the capital market.
He had said being a beneficiary of the loans the government takes whilst same entity is the one that advises for the loans to be taken is the reason Ghana's debt stock has ballooned under the Akufo-Addo government.
But speaking his show, Mr. Adom-Otchere, a staunch defender of the NPP government on all matters especially after his appointment as a board member of the Ghana Airports Company, said Mr. Ofori-Atta has not indulged in any conflict of interest.
He says Databank has been undertaking such responsibilities since the erstwhile Mahama administration, the reason he cannot be cited for conflict of interest.
But on Monday, August 22, 2022, when he appeared on Onua TV's Morning Show, KKD said he has forgiven Paul Adom-Otchere, because he is his little brother.
However, he advised him that:
"When a prominent person enters a house, because of how he is dressed, the dog barks at him. After the dog has been tamed and the guest is ushered in, it gets caged back to its abode.
"If you're a child, don't allow yourself to be used to insult the elderly", adding in his subsequent contributions and in an address to those battling him for credit on the DataBank rants that, "any fool can speak truth to the poor and needy but only the wise can speak truth to power," he advised.
By Felix Anim-Appau|Onuaonline.com