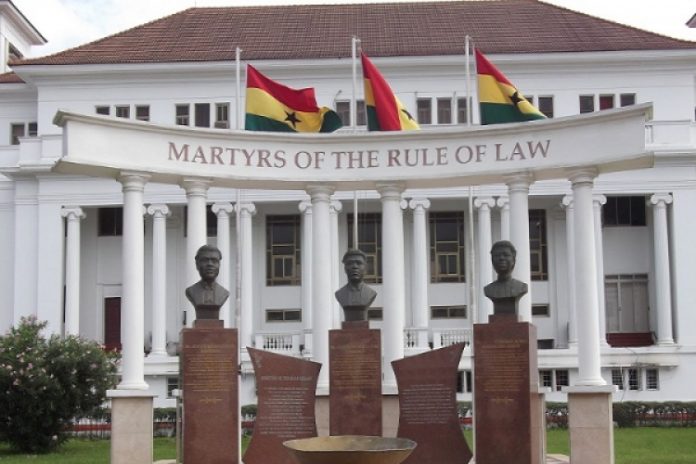 The Judicial Service Staff Association of Ghana's (JUSAG) industrial action is biting hard on judicial services nationwide as many court rooms have become empty.
Onua TV/FM's monitoring of situations at some court premises revealed an abated court processes resulting from the strike.
At the Supreme Court premises in Accra, the place was empty when the News team visited.
Meanwhile, Maxwell Otoo reports personnel from the police service were around to provide security during his visit around 11 in the forenoon Thursday.
At the Awuku Bereku District Court in the Central region, not a single door had been opened when Nana Yaw Asare visited around 11 am.
Shirley Ewurama Smith's report from the Kweikuma High Court, the largest judicial facility in the Western region, couldn't provide an alternate outcome as activities there had halted as a result of the strike.
READ ALSO: C/R: Akpɛtɛshi consumers threaten sit-down strike over high cost of product
In the Ashanti regional capital, the hitherto busy Court Complex at Adum was likened to a cemetery Thursday morning upon Kwame Baffoe Agyekum's visit.
"The entire court complex is empty with only a handful of security guards at post," he reported.
JUSAG declared an indefinite strike Wednesday, May 24, 2023, over government's failure to approve their reviewed salaries and other allowances.
In a statement issued by the Association, they said government's action towards the conditions of service and other emoluments for its members has been full of consistent dishonesty.
The Association said its proposals to the government on the implementation of the approved cost of living allowance for members were not urgently attended to.
"The Government of Ghana introduced the Cost of Living Allowance (COLA) in July 2022 for all public sector workers including staff of the Judicial Service due to the adverse economic condition the country was and is still undergoing.
"JUSAG submitted its proposal for review of salaries for 2023-2024 on 31st October 2022 to the Judicial Council for consideration in its advice to the President for determination in accordance Articles 149 and 158(2) of the 1992 Constitution of Ghana," but have not been honoured by the government according to portions of the statement.
READ ALSO: JUSAG threatens indefinite strike over delay in salary adjustment