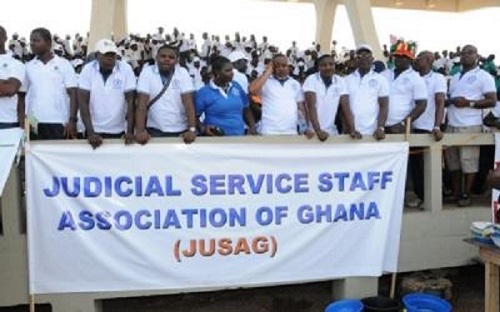 The Judicial Service Staff Association of Ghana (JUSAG), Tamale branch, has called on the chiefs in the Tamale metropolis to support the Judiciary to administer justice in the jurisdiction.
The Association says justice must be delivered to persons in accordance with the law and the general interest of the majority of citizens but not in the interest of a few.
The call comes on the back of a demand by the Tamale chiefs asking the police to release some 13 youth who were arrested for attacking the Tamale District court on Monday.
Speaking with Alfred Ocansey on Ghana Tonight on TV3 Tuesday, August 29, 2023, General Secretary of JUSAG, Tamale branch, Yakubu Abdulai, indicated that even though they respect the call by the chiefs, justice must be allowed to take its course.
READ ALSO: JUSAG strike bites hard as judicial services abate nationwide
"We respect the call by the chiefs alright, however, it is our respective view that the chiefs and the opinion leaders of Tamale, ought to support the Judiciary, so that we administer justice in accordance with the law and in the general interest of Ghanaian people and not based on what a section of Ghanaians would want to be done," he stated.
"So, it is our respective view that the chiefs should allow justice to take its own cause, they should support the Judiciary," Yakubu Abdulai added.
He went ahead to justify why the security agency took the decision to arrest the 13 to avert the harm which would have been caused without the intervention of the police.
"Had it not been the intervention of the police, it is likely that staff of the court, –the magistrate and other people who were gathered there to hear their cases would have suffered various degrees of injuries or lives would have been lost. So, the police were compelled to do what they did in order to salvage the situation," he noted.
Background
Some youth of Tamale stormed the Tamale District Court Monday, August 28, to demand the prosecution of a drug lord, Karim Osman. The development led to a crash where the police fired live ammunition to disperse the youth, injuring six persons including a police officer. 13 of the youth were arrested and many motorbikes seized.
READ ALSO: Ghanaian-youth-lazy comment by Kyei-Mensah-Bonsu 'unfortunate, reckless' – Edudzi Tamakloe