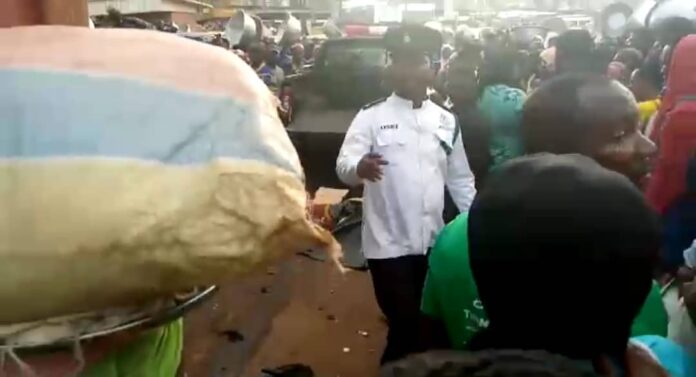 A 51-year-old cabbage seller has died after a trailer truck carrying second-hand clothes rammed into pedestrians at Dr. Mensah Market near Kejetia in the Kumasi metropolis of the Ashanti region.
The truck which reportedly failed its brakes also crashed into a taxi cab that was parked before running over the woman who was selling on the roadside.
Body of the deceased, who was identified as Akua Serwaa was mutilated by the truck after the gory accident.
An eyewitness in an interview with Akoma News said the accident occurred Thursday, May 4, 2023, after a truck with registration number GT 7452- 11 lost control and run into traders hawking in the area.
READ ALSO: Oti region: Teacher dies with woman after canoe they were travelling on capsised on Volta Lake
READ ALSO: C/R: 9-month-old pregnant woman collapses after son dies in manhole at Kasoa
Akoma News gathered that the deceased was a resident of Antoa in the Kwabre East district who usually sells cabbage at Dr. Mensah Market to earn a living.
The mutilated body of the deceased has been deposited at the Okomfo Anokye Teaching Hospital morgue.
"We heard them shouting that we should run so we asked them why we should run at this dawn and they said the the brakes of the articulated truck has failed. We gathered some stones and woods to block the road and thankfully it stopped. Then one of the kayayees pointed a leg under the trailer to us. We realised the someone's leg was cut and they told us it is a cabbage seller," an eyewitness told Akoma News.
READ ALSO: 75-year-old woman sets son, daughter-in-law, two grandchildren ablaze