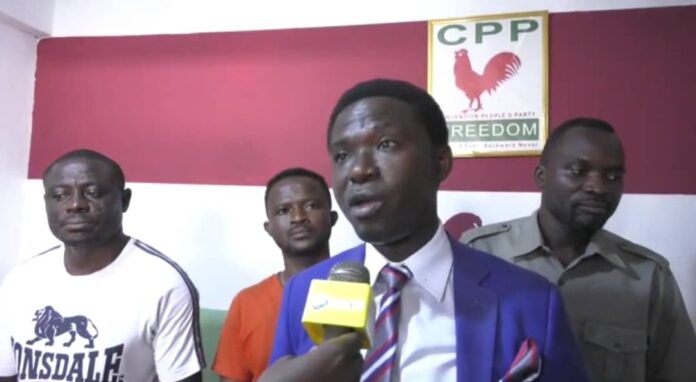 The Convention People's Party (CPP) has expressed the need to wrestle the ruling New Patriotic Party for the Kumawu seat come May 23, 2023.
After electiing a candidate to represent them in the upcoming by-election, aspirant Ebenezer Boakye Yiadom, says it was time Kumawu people got their share of the national cake through leadership from the red cockerel fraternity.
He says their poor performance in fielding a candidate in 2000 is not going to dampen their hopes in clinching the seat this time around.
"What gives us hope is that the relationship between us and the youth has not been that smooth whilst we have far advanced with some interactions with the elderly.
"Kumawu has been denied development over the years since 1996, I haven't really seen any development.
"Kumawu roads, employment issues, robbery attacks…so that tells us the party has disappointed Kumawu and has nothing good for us. So if you compare Kumawu to Effiduase, you see that things are moving on with Effiduase so if God wills, CPP will flip the seat from the NPP on 23rd May," he told William Evans-Nkum in Twi Monday, April 24, 2023.
Meanwhile, Ernest Yaw Anim polled 195 votes to become the Parliamentary candidate for the NPP in the upcoming constituency by-election.
He was keenly contested by Nana Ama Serwaa who garnered a 181 votes as first runner up.
The NPP primary on Sunday, April 23, 2023, was to find a successor for the late MP, Philip Basoah, who died last month.
The Electoral Commission following the demise of Mr. Basoah through the constitutional provision set Tuesday, May 23 for the by-election.
READ ALSO: Kumawu: Residents table multifarious challenges at Akoma FM's Wonsom ahead of by-election
Even though residents and chiefs in the constituency have complained bitterly about the neglect of their roads, the party is assured of victory in the polls since the Ashanti region has been a world bank for the NPP.
A party leader once boasted of the extreme loyalty of the region to the party by alluding to the fact that a goat in an NPP colours will win an election in the region hands down.
READ ALSO: [VIDEO] A/R: Five arrested over attack on policeman at Kumawu
The five aspirants who contested were Dr. Kwame Appiah Kubi, Dr Aboagye Dacosta, Nana Ama Serwaa, Ernest Yaw Anim and Osei-Hwereh Bempah.
With 419 delegates voting, Ernest Yaw Anim had 195; Nana Ama Serwaa 181; Dr. Appiah Kubi 10; Dr Aboagye Dacosta 27 and Osei Bempah obtaining 5 votes with 1 rejected ballot.
Meanwhile, the opposition National Democratic Congress whose chances of winning the election is slim have already chosen a candidate without undergoing any primary.
By Felix Anim-Appau|Onuaonline.com