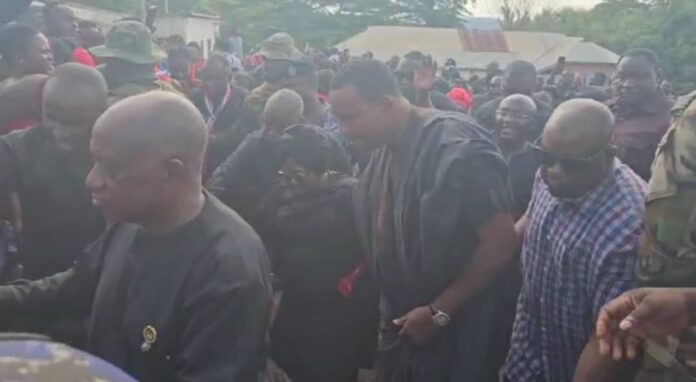 New Patriotic Party (NPP) supporters in the Kumawu constituency Thursday showed up in large numbers to mourn with family and friends during the one week observation for the deceased member of Parliament, Philip Basoa.
Among the many mourners and sympathisers were the Vice President of the Republic, Dr. Mahamudu Bawumia, the Chief of Staff, ministers, and some Members of Parliament.
Vice President Bawumia was welcomed to the funeral grounds by a frenetically charged crowd of NPP supporters, mainly polling station executives in the Kumawu constituency.
The thick crowd that followed the him was very virtually impenetrable.
READ ALSO: FULL TEXT: US state report makes damning observations about Ghana that puts nation in a bad light
READ ALSO: Kumawu by-election: CPP pledges to take power from NPP after electing candidate for May 23 showdown
Also present at the funeral was former Trade and Industry minister Alan John Kwadwo Kyerematen.
Knowing very well that both the Vice President and Mr Kyerematen are contenders for the NPP flagbearershilp race, it was expected that both candidates would pull greater numbers at the funeral.
However, it was obvious that Vice President Bawumia has the numbers at the Kumawu constituency if what happened at the grounds is anything to go by.
The Vice President was welcomed by the elated crowd walking side by side with the newly elected Parliamentary candidate for the constituency, Ernest Yaw Anim.
It was also clear from the gathering that Mr Anim's loyalty and support for the Vice President is unquestionable, contrary to speculations by some supporters of Mr Kyerematen that the PC supports their candidate.
Earlier, the Vice President paid a courtesy call to the chiefs and people of Kumawu before proceeding to the one week observation grounds.
The Vice President was accompanied by some MPs in the Ashanti region, regional and constituency executives, as well as some party stalwarts.
By Benjamin Aidoo|AkomaFM