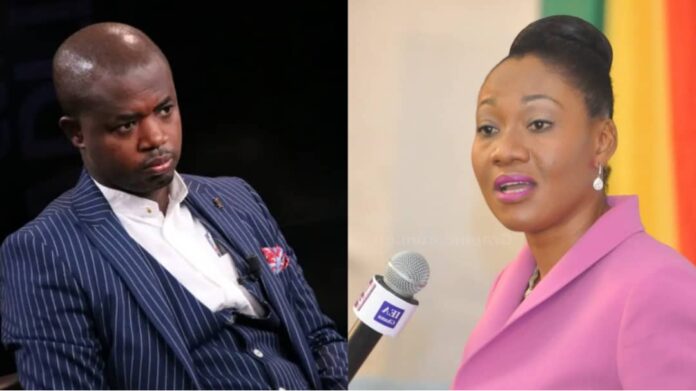 The Electoral Commission (EC) Monday, September 18, 2023, indicated it would embark on a mop up exercise after the ongoing limited voter registration exercise to cater for persons whose locations are difficult for the EC to access.
Chairperson of the Commission, Jean Adukwei Mensa, made the disclosure whilst updating the media on the progress of the exercise six(6) days into its commencement.
This, the Director of Legal Affairs for the National Democratic Congress (NDC), Godwin Edudzi Tamakloe, has said, is an admission that the EC was going to disenfranchise prospective voters in the upcoming district level elections with its registration approach.
According to him, should the mop up exercise be done next year by virtue of admission by the EC that some names will not be on the roll because the registration was limited at the district offices, such eligible voters will not be able to vote in the December 2023 elections.
The NDC, together with four other political parties and two private citizens, injuncted the exercise demanding the EC to extend the registration centres beyond its district offices. The parties held that the exercise at the district offices was going to prevent many people from far places from accessing the centres.
After going ahead with the registration despite the injunction, Madam Mensa announced yesterday that the Commission intends organising a mop up to cater for those who would not be captured.
But speaking on Ghana Tonight on TV3 Monday, September 18, 2023, Mr. Edudzi Tamakloe noted that, the EC Chair is not abreast with the very constitution guiding its operations and the decision to organise a mob up is an admission of the NDC's stance of the recent approach disenfranchising people.
"First of all, from her own statement, she admits that by limiting the registration to the districts, some people will definitely be disenfranchised. And that's why she quickly now says that there will be a mop up exercise," he told Alfred Ocansey, host of the show.
He further pointed out that the resources given to the EC in 2024 should be enough for her not to complain of financial and/or logistical constraints.
"In 2020, Madam Jean Mensa got the special Budget Committee of Parliament to approve in excess of US$74 million. She contracted a French company called Talis to supply the registration kits for the purposes of the 2020 registration exercise. Those kits are in very good condition. From the year 2020, has there been any form of registration exercise? No! So it does not lie with Madam Jean Mensa to say at the end of the day Ghanaians will not be disenfranchised. The speech she read was obviously not prepared by her.
READ ALSO: 'If this country goes to war, it will be on your head – Edward Bawa cautions Jean Mensa in Parliament