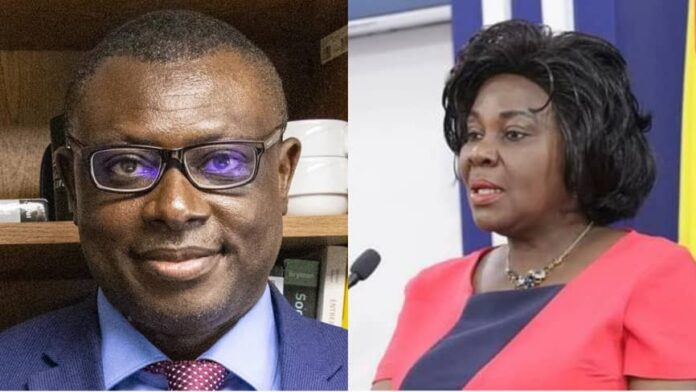 A leadership and governance expert, Professor Enoch Opoku Antwi, believes the sums of monies stashed in Cecilia Dapaah's bedroom could establish an entire rural bank. 
Per a charge sheet that has been amended several times after it got leaked, former Sanitation and Water Resources minister, Cecilia Abena Dapaah reported of a missing US$1million, €300,000 and an undisclosed amount of millions of Ghana Cedis with some personal effects.
Two househelps of the former minister with some accomplices have since been charged for the thievery.
READ ALSO: US-based Ghanaian petitions FBI, other anti-money laundering agencies over Cecilia Dapaah's stolen wealth
Following the suspicion of corruption in the matter with recourse to the value of the monies involved, the charge sheet has been amended about five times reducing the quantum of the monies.
"In the first place, the monies that she was holding is more than enough to establish a whole rural bank," he told Alfred Ocansey on the Key Points Saturday, August 12, 2023, on TV3.
He continued that, "apart from that when she went to Parliament, this money could have been used to borrow the whole ministry –remember, Mobutu Seseseko, he was borrowing money to Zaire at that time. So the amount she has sitting on, she could have borrowed the ministry that money to solve the problem that she went to Parliament to talk about that she is stacked with money in her apartment."
READ ALSO: BREAKING: Cecilia Dapaah's two frozen accounts contain substantial amounts of millions of dollars and cedis
We are talking about a situation where someone cannot get gari and groundnut to eat in a day and we have public servants sitting on this amount of money and people are watering that down as if it's nothing. I'm scared and ashamed at this behaviour because she has let herself down, she has let her family and she has let the nation down," Prof. Opoku Antwi fumed.
Meanwhile, the Academic City University College lecturer was of the view that, if Cecilia Dapaah is unavailable to provide the source of those monies, then it's either she stole them or they were acquired through drugs or lottery.
"When you have monies stolen and you can't tell us the source of that money, then two speculations can come in here; either you've stolen the money yourself, or you won a lottery, or it's drug money, so let's establish that fact," he stated.
READ ALSO: Private Lotto Operators kick against plans to outsource 5/90 lottery