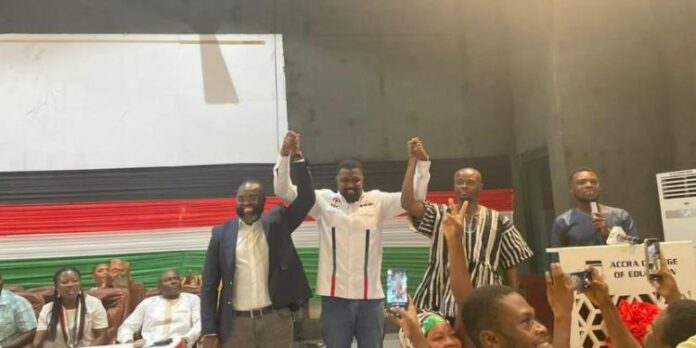 Actor cum farmer John Setor Dumelo has been endorsed by leadership of the National Democratic Congress (NDC) in the Ayawaso West Wuogon constituency to represent the party in the 2024 parliamentary polls.
The two other aspirants who were contesting with Mr. Dumelo have agreed to step down for him according to a statement signed by constituency Chairman, Bismark Aborbi-Ayitey.
Fred Nuamah, a friend and colleague of Mr. Dumelo who had a disagreement with him earlier about the contest announced his support for him on August 8 after pulling out from the contest.
The NDC has asked the public and its supporters to rally behind their chosen candidate to snatch the seat from the New Patriotic Party in the 2024 elections.
READ ALSO: AWW NDC parliamentary primary: Fred Nuamah rescinds decision to contest, throws supports for Dumelo
Below is the full statement from the party:
The National Democratic Congress (NDC) in Ayawaso West Wuogon Constituency, hereby issues this press statement to officially announce a significant development in our parliamentary candidate selection process for the 2024 general elections.
Upon further consultation with the party hierarchy and after engaging in constructive discussions with all the aspirants, we are pleased to inform the General Public that the two other aspirants have graciously accepted to give the nod to Mr. John Dumelo to represent the party.
As a result of this harmonious agreement, we proudly endorse and present Mr. John Dumelo as the official NDC Parliamentary Candidate for Ayawaso West Wuogon Constituency for the upcoming 2024 Parliamentary Elections.
READ ALSO: Those chanting Mahama's comeback not well-meaning Ghanaians – Akpaloo 
We extend our heartfelt gratitude to the other aspirants who have demonstrated their loyalty to the party and its values by making this selfless decision for the greater good of the NDC and the Ayawaso West Wuogon Constituency.
We call upon all party members, supporters, constituents, and the public to rally behind Mr. John Dumelo and support his campaign wholeheartedly. Together, let us work towards the shared goal of securing victory for the NDC in Ayawaso West Wuogon and building the Ghana we want together.
We sincerely appreciate the efforts of the party hierarchy in reaching this consensus.
READ ALSO: Dumelo denies ever saying he was ditching AWW for SALL; calls Fred Nuamah a liar