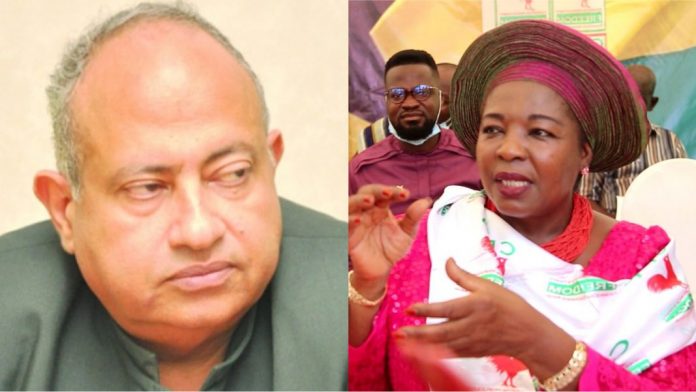 1st Vice-Chairman of the Convention People's Party (CPP) who also doubles as the Acting Chairman of the party, Onsy Kwame Nkrumah has said some top executives of the party are NPP and NDC sponsored members.
Mr Nkrumah has noted the current Chairperson, Nana Akosua Frimpomaa's position is illegitimate because she didn't attain the over 50% votes as stipulated in their constitution.
Speaking on Onua TV/FM's Maakye Tuesday, September 20, 2022, the first son of Osagyefo Dr. Kwame Nkrumah, the Founder and first President of Ghana, said Nana Frimpomaa was sneaked into the CPP by the New Patriotic Party.
He averred both the National Democratic Congress and the NPP have planted their members at strategic positions in the party to destabilise it, and Nana Frimpomaa is an example of such persons.
Mr. Nkrumah said he was close to Nana Frimpomaa when he didn't know she was a stoop of the NPP until he became aware of it.
Madam Frimpomaa, according to Mr. Nkrumah, has taken huge sums of money from the NPP government including vehicles and motorbikes which she said were donated to her in her personal capacity and not for the party.
"Nana Frimpomaa lost but she carries herself as Chair of the party. She is one of the people sponsored by the NPP. Unfortunately I didn't know and I used to be close to her. Two of the officers were aware already aware. She has been given GH₵2.7 million, a V8, two pick ups and 20 motorbikes.
"She kept the cars –the V8 she is using and the pick ups for the party's use –money, motor bikes, I didn't know. I was sidelined. She said it was given to her in her personal capacity.
"₵2.7m she has kept. Some of the money was collected in bags and two of the executives helped her carry it and subsequent ones in her account. Others to her son whom she has appointed to a position in the party," he told Captain Smart, host of Maakye on Onua TV/FM.
Meanwhile, Onsy Nkrumah says he heard the General Secretary of the party, Nana Yaa Gyantuah was also sponsored into the CPP by the NDC. But when he asked her, she denied it.
"According to rumour, GS was sponsored by the NDC and I asked her and she said it's a rumour so I left it," he noted.
By Felix Anim-Appau|Onuaonline.com