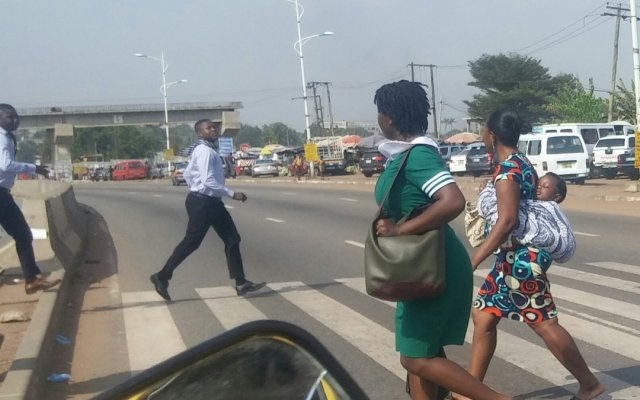 The National Road Safety Authority (NRSA) has outlined measures it has put in place to help reduce road accidents during and after the Easter festive season.
The Authority says it is determined to collaborate with the Ghana Police Service to take drastic action against pedestrians who cross the road indiscriminately.
It has vowed to arrest and prosecute recalcitrant pedestrians who have decided to engage in the jaywalking risk.
READ ALSO: 'I was driving on top speed against traffic regulations' – Nanton MP reveals cause of accident en route to Parliament
NRSA in February 2023 recorded 185 pedestrian knockdowns out of 1,101 cases of road traffic crashes and casualties.
150 people have died with 1,214 sustaining series of injuries as a result of the road crashes.
Head of Corporate Affairs at NRSA, Pearl Adusu Sateckla, speaking with Onua News' Maxwell Otoo on Tuesday, April 4, 2023 appeared troubled, describing the situation as awful.
She emphasised the need for the security agencies to strictly enforce the road safety laws without disregarding pedestrians who cross the road at unauthorised places.
READ ALSO: 15 persons, including a boxer, arrested for open defecation, improper waste disposal
"We are engaging the police this time to arrest and prosecute adamant jaywalkers who abandon foot bridges and cross the streets posing serious threat to themselves and other motorists.
"We will encourage the police to enforce the law in compelling the masses to shun the practice as it contributes to the shattering road crashes," she maintained.
She was quick to add that the Authority would deploy trained road safety officers to partner the highway patrols from the Ghana Police Service to apprehend drivers driving under the influence of drugs and related strange substances.
READ ALSO: Many feared dead in accident on Kpong – Tema road
Aside from this, Ms Adusu Sateckla has expounded that the Authority is embarking upon a pre-departure strategy at bus terminals to avoid rickety vehicles on the road to reduce accidents.
She reiterated that the Authority is engaging the services of a towing company to help remove stationary trucks on highways to avoid accidents.
She opined that the NRSA has done enough to curb road crashes yet appealed to drivers to be responsible and heed to directives to help reduce road fatalities.
Source: Onuaonline.com|Ghana