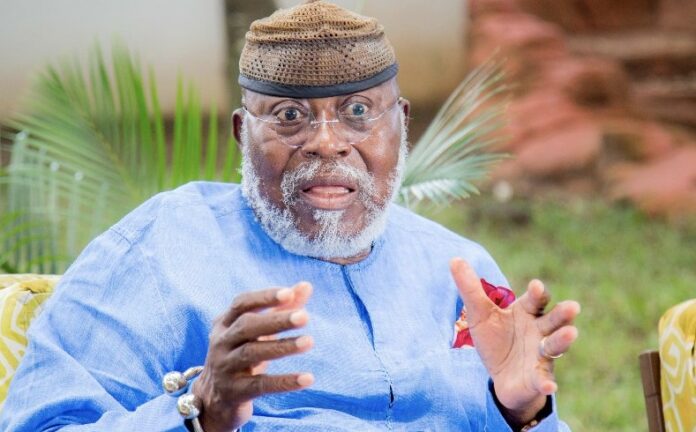 Ghana is heading towards a catastrophe, and the failure of some religious and political leaders to speak up to issues is worsening the situation, a concern Dr. Nyaho Nyaho-Tamakloe has raised.
He wants the clergy and former leaders to show concern about the precarious state of affairs with their utterances.
The founding member of the New Patriotic Party (NPP) was speaking at a forum held on anti-corruption at the Asogli Palace, in conjunction with the 2023 Asogli Yam Festival and the 20th Celebration of the Agbogbomefia, Togbe Afede XIV, the paramount chief of the Asogli State.
Dr. Nyaho-Tamakloe indicated at the forum that imminent danger awaits the country with the current state of affairs.
He called on the former President,  John Agyekum Kufuor, to air his views out on how things are churning out.
He reminded politicians not to forget the repercussions of a civilian government that fails to honour its responsibilities to its people.
"The chiefs of this country, we have the National House of Chiefs, they have been quiet and I warn them that we are facing a great danger. I would like to bring to the attention of former President J. A Kufuor, that is time to talk. He's too silent, his refusal to talk is leading the country to a disaster.
"It appears the nation is not in charge by the President [Addo Dankwa Akufo-Addo]. This country is facing danger, if you just take a look at what the EC is doing, the signals are there. I know what coup d'etats are. No soldier likes a coup, but when the civilian government fails to be accountable and honest to the people, then he's called for a removal through the ballot box. Ghana is leading to a great disaster if anyone changes any figures in the 2024 polls.
"Most Reverend Charles Palmer-Buckle, the Chief Imam Osman Nuhu Sharubutu, are the people who should start singing about the danger that is now facing the country. They have all failed to talk. I call also on Asantehene Otumfuo Osei Tutu II, they should all be watching and be careful. If the nation falls into any disaster, the blood of the people will be on your hands".
During the same event, Mensah Thompson, the Director of ASEPA, highlighted the country's predicament, noting that many institutions have fallen into a state of dormancy.
READ ALSO: If Akufo-Addo had integrity, he will never dare defend his appointees – Nyaho-Tamakloe