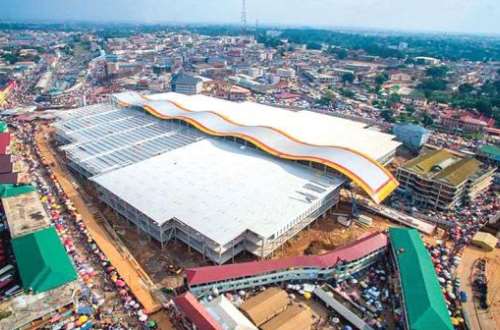 The Board of Directors of the Kejetia Market says the one week closure of the facility proposed to the traders is based on a recommendation by an expert.
According to the Board, Avangarde Design Services advised that the burnt portion of the market be cordoned for an integrity test.
READ ALSO: We are not violent, we are ready to weed out criminals among us – Gauso chief roars
Vice Chair of the Board, Nana Agyenim Boateng told Kofi Asante Ennin on GhanAkoma, an evening political show on Akoma87.9FM.
The directive follows a one week structural integrated test conducted on the facility by the firm which the facility failed.
Although 32 shops were directly affected by the fire, the closure of the market to business will affect 807 shops.
The expert fears the market could cave in if proper maintenance is not carried on appropriate technical advice.
On March 16, 2023, the Kejetia Market extension was caught by fire through human error at about 4pm.
After five hours intensive fire battle by personnel of Ghana National Fire Service, National Disaster Management Organization (NADMO) among other security agencies, the market was temporarily shut down to business from March 16 to 20 and later extended the closure for 7 more days.
READ ALSO: Sam Pyne must go to jail over New Kejetia Market fire – Captain Smart
This was to provide Management of the facility an opportunity to engage expects to conduct structural integrity tests on the market.
But, the Vice President Dr. Mahamudu Bawumia ordered management of the Market to open it to business while management engaged experts to conduct checks on the market to establish if the market was fit for purpose particularly at the area which was burnt.
A week later, the expert and a Brazilian Construction Firm, Contracta, a construction company that built the market in a report submitted to the Board of the market declared the affected portion of the market by the fire as not fit for purpose.
They explained further that the structure has failed integrity test which makes the facility not fit for purpose, warning the facility could cave in if not properly renovated before use.
The Vice Chairman of the Board of Directors of the Market, Nana Agyenim Boateng, on the Akoma FM show stated that, "we need to conform to the recommendations."
The technical assessment team also confirms the firefighting and electrical gadgets installed in the market, particularly the area affected by the fire, have been damaged.
Nana Agyenim Boateng said the move was to enable them to properly access the extent of damage to systems including, water, mechanical and electrical in the burnt portion of the facility.
READ ALSO: Bawumia reveals cause of Kejetia Market fire
By Benjamin Aidoo|AkomaFM|Onuaonline.com