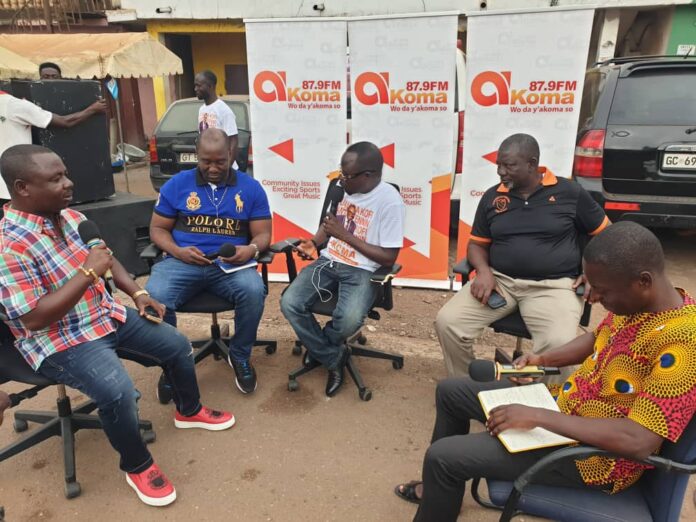 Artisans at the Suame Magazine industrial area have complained of robbery activities in the area, with a gang of 8 armed men with AK47 rifles robbing some shops last month near a place called Garages Office.
The robbers made away with some valuables and an amount of money. Within the last few weeks, the artisans say about 25 shops have been affected by the operations of the gang.
Speaking on Akoma 87.9 FM's Me Mpɔtɛmu (My Community) 'Keteke' with Aduanaba Kofi Asante Ennin at Suame Magazine Tuesday, May 2, 2023, some artisans expressed worry about the situation.
Nana Osei Bonsu, Chairman of Garages Association said they are living in fear following the constant breaking into people's shops by thieves and armed robbers.
It is the latest robbery incident after a brief lull in the rise of such crimes in the Kumasi metropolis
He said they normally do it in the evening, blaming it on squarters who have invaded the industrial hub over the years.
The regional capital got inundated with murderers and robberies in 2022, but the situation appeared to have abated until the latest incident.
READ ALSO: Onua Constituency Tour: Anyaa Sowutuom residents lament poor road network
READ ALSO: Our wives are divorcing us due to hardship – Suame Magazine artisans lament
He underscored the need to assign special taskforce to patrol the Suame Magazine enclave.
According to him, the then boisterous place become quiet in the night since many people do not stay there.
Akoma FM's Me Mpotemu 'Keteke' stopover at Suame Magazine attracted many artisans, spare parts dealers, Businesses and inhabitants within the enclave to discuss issues of local and national interests.
The outdoor programme, which has been set on wheels –Me Mpotemu Keteke, — is an offshoot of Akoma FM's flagship programme, GhanAkoma, which has been designed to draw radio closer to residents to discuss and find solutions to issues affecting their daily lives and businesses.
The stopover at Suame Magazine, specifically at the forecourt of Ghana Garages Association, was attended by many people around the area to share their ideas on national issues, particularly issues within the area.
Also at the event included officials from GUTA as well as the Executive Car Dealers Association in Kumasi.
Major issues that were topical include security, robbery, depreciation of the Cedi and recent taxes approved by Parliament as well as high import duties at the ports in the country.
READ ALSO: Akufo-Addo cuts sod for commencement of 4-tier Suame interchange
Gracing the public forum were the Chairman of Executive Car Dealers Association, Prince Kumi, Martin Danso, Public Relations Officer, Executive Car Dealers Association, Francis Anane, Secretary Executive Car Dealers Association, Ashanti Regional Chairman GUTA, Anthony Oppong, Nana Osei Bonsu, Ashanti Regional Chairman, Ghana Garages Association and others.
By Benjamin Aidoo| Akoma FM, Kumasi