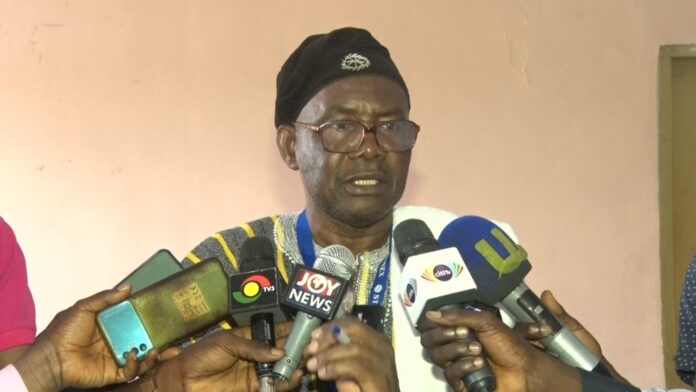 The surveying and mapping division of the Lands Commission in Ghana is set to capitalise on technological advancement to transform traditional surveying and mapping methods through digitalisation.
However, the division has attributed land disputes in the country to unprofessional and illegal surveying and mapping practices by quack surveyors.
The Director of the Surveying and Mapping Division of the Lands Commission, Naa Abukari Abdulai has cautioned the public to refrain from acts of illegal land services and management.
He noted the Commission won't hesitate in enforcing the land laws of the country and the prosecution of culprits.
He made the caution during the Annual Retreat of Surveying and Mapping Division of the Land Commission which was on the theme "Repositioning Surveying and Mapping in the era of digitalization for socio-economic development" on Tuesday, May 9, 2023, in Kumasi.
"The land Act give directions on how to handle issues governing land registration and every other land matter. When you go to engage in certain acts like land gaurdism, illegal surveying or defrauding others. We will use our laws to deal with such people in a manner that others will not be thinking to repeat such mistakes.
READ ALSO: [PHOTOS] Gomoa East: 5 land guards arrested for terrorising developers despite ban
READ ALSO: S/R: Chief allegedly killed over land dispute in Central Gonja
"We have a whole lot of land disputes in all sectors of the court largely because wrong people want to do survey, they want do registration and even want to sell lands when they don't own land or know where the land is," he indicated.
Whiles highlighting on the theme for the retreat, Naa Abukari acknowledged the need for technological advancement in land survey and mapping.
"In this era of digitalisation, we are also thinking of how we can enhance all that we are doing such that we can get results in a very limited time frame. Elsewhere you can get someone go out to the field with others in the office and by the time he returns from the field the site plan and other necessary documents are ready. So we are seeking to achieve this as a survey and mapping division in Ghana," he said.
He further decried adequate human and material resources and called on the government to intervene.
"To achieve this digitalisation agenda, we need to be resourced in human, technical and material resources. Digital surveying is not a cheap business. This time we may need drones, certain apps on phones among others. Yes we can achieve this digitalization agenda vis-a-vis socio-economic transformation but we must be resourced in a meaningful in order to deliver," he was emphatic.
READ ALSO: Don't dare try any illegal mining on our lands – Asante Mamponghemaa warns government
By Issah Zakariah|AkomaFM|Onuaonline.com