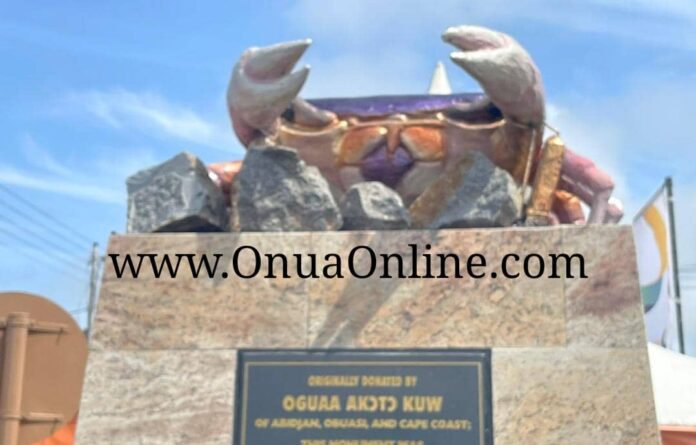 The people of Cape Coast, Oguaa, are synonymous with the crustacean, crab.
Many places in Ghana have their naturally endowed resources where majority of the indigenes make a living from.
Talk of gold from Obuasi, Tarkwa and other places, with Ada and the north being synonymous with salt and shea tree respectively, that of Cape Coast is the crab.
Despite the residents proximity to the Atlantic Ocean where many make their living, the crab is the animal that historically holds the spirit of the Oguaa people.
READ ALSO: Odwirakese Festival: Okuapemmanhene bans noise-making to commence celebration
Presenting the history behind the crab as the symbol of the people, Tufuhen of Oguaa traditional area, Nana Kwesi Edu VI, said the first man who settled at now Chapel Square, where the Wesley Cathedral for the Methodist church is cited discovered the crab at 'Kɔtɔworaba' now Kotokoraba, where the Cape Coast market is.
The corrupted name, Kotokoraba stems from 'Kɔtɔ', meaning crab, and 'woraba' meaning waterlogged making 'Kɔtɔworaba'.
Speaking at the Onua People's Assembly Thursday, August 31, 2023, Nana Edu described the crab as the gold for the Oguaa people.
According to him, about 80 per cent of the houses in Cape Coast built in the pre independence era were from the sale of crabs.
He explains that the crabs were so much in abundance that no matter how they hunted them for sale, there were still excess for catch the subsequent day.
Unveiling some mystery about the place, the Tufuhen said a huge crab emerged from the old Kotokoraba market when it was being pulled down to make way for the new one.
The appearance of the crab according to customs and traditions was an indication of the god's approval of the development being presented to the area.
READ ALSO: Onua Maakye precedes coverage of 2023 Oguaa Fetu afahye with two-day People's Assembly in Cape Coast