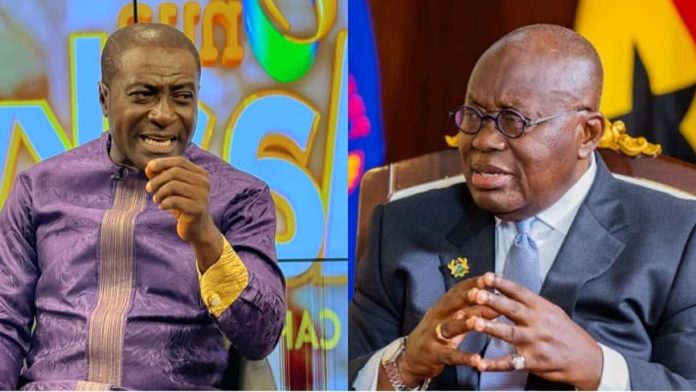 Captain Smart has asserted unlike John Agyekum Kufuor and John Dramani Mahama, "vindictive, arrogant and bossy" Addo Dankwa Akufo-Addo doesn't want to accept he has gotten things wrong.
The Akufo-Addo led administration, according to the broadcaster has mismanaged the economy but is still apportioning their failures to external factors.
His comments come on the back of Ghana's return to the International Monetary Fund (IMF) for support, which government is blaming on external shocks such as the COVID-19 and the Russia-Ukraine war.
But during his rants on Maakye Monday, July 4, 2022, Captain Smart, the host, said Ghana's economic turmoil began before the two external shocks and government's move to justify its bailout from the IMF on that is utterly unpardonable.
In their honesty and humility, Mr. Smart said Kufuor and Mahama both accepted the mantle wasn't as easy as seen from outside. But, Akufo-Addo, thinks he is beyond concession to tell Ghanaians he has failed in certain aspects.
"When Kufuor came and realised things were difficult, he told Ghanaians that things are different when you're on the seat. That is why Mahama said he will take certain criticisms from either Kufuor or Rawlings and not Bawumia who had never been anywhere close to the presidency.
"Nana is so arrogant, vindictive and feeling so big to tell Ghanaians they got certain things wrong. Kufuor as sensible as he is never criticised Mahama uselessly," he stated.
He continued that the quest to capitalise on the global crises to justify the bailout is unfounded since corruption, mismanagement, reckless borrowing and stealing of state funds shrouded the current administration before COVID-19 and the Russia-Ukraine war broke.
"In 2019, there was no COVID but $600m got missing at the Finance Ministry. They later said they have found it. So where did it pass earlier?
"When government said Bank of Ghana should let them print GH₵10b, they printed GH₵20b. Where did the remaining ₵10b pass?
"It's on record that the best President in terms of infrastructure in the whole of the Fourth Republic, it's Mahama. Kufuor cannot even come close. Mahama strategically established projects but Nana Addo, when you take the money, what do you use it for?," he quizzed.
President Akufo-Addo Friday, July 1, 2022 directed the Finance Minister to commence deliberations with the IMF for a bailout.
The release stated "The engagement with the IMF will seek to provide balance of payment support as part of a broader effort to quicken Ghana's build back in the face of challenges induced by the Covid-19 pandemic and, recently, the Russia-Ukraine crises."
By: Felix Anim-Appau|Onuaonline.com|Ghana