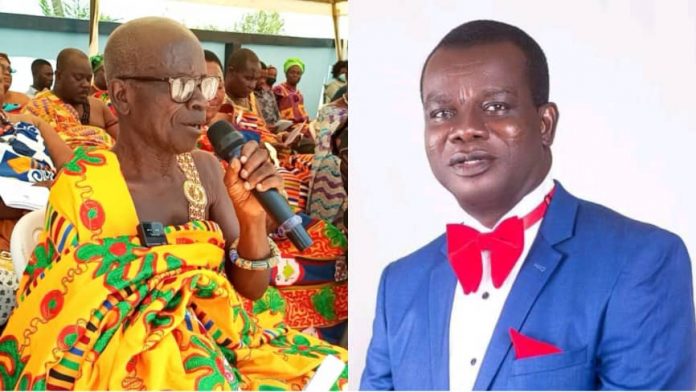 Chief of Yabiw who is also the Acting president of the Shama Traditional Council, Nana Kwamina Wienu II, has called on the Member of Parliament for Shama, Samuel Erickson Abakah to up his lobbying skills in Parliament.
Nana, who is not happy at the current state of the Constituency at the commissioning of the Shama District Police Headquarters on Monday July 18, 2022, told the MP their stalled hospital project is long overdue.
For more than two years, President Akufo-Addo has cut sod for the construction of the Shama District Hospital without commencement of the project.
He also touched on the state of Shama Junction to Shama road.
"In our Member of Parliament's speech, he made a proverb that if a lady stays too long in the bathroom, it means she is doing proper cleaning. In fact, this cleaning has kept too long. Just look at our road from Shama Junction to Shama town, it is very sad. If I didn't have my personal private jet, I would not have make it to Shama today. I am appealing to you Honorable, it is true everyone is lobbying for road construction so please up your lobbying skills for the constituency"
In response to the chief, Western Regional Minister, Kwabena Okyere Darko Mensah stated the people of Shama should commend their MP for lobbying for an additional 29 kilometres of road construction to the existing 20.
"Nana I want to assure you, in our current budget and current projects, we had only 20km. But through the effort of your Member of Parliament, we were able to add additional 29km to the roads we are going to do at Shama.
"We have done our part by awarding the contract, Nana like I said sometimes back at house of Chiefs, it's time we start putting pressure on our contractors because anytime they come for a contract they came with a letter indicating they are capable of doing the project. So how come the contractors complain of funding? Nana, there is no excuse for people to use none payment of certificate as lincense not to do their work," the minister said.