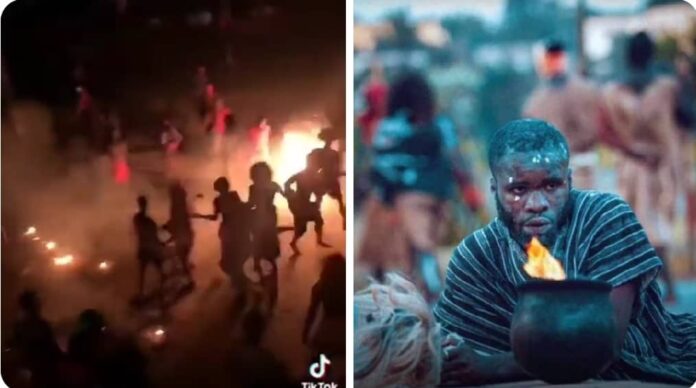 A ritual by students of the Akenten Appiah-Minkah University of Skills Training and Entrepreneurial Development (AAMUSTED) has claimed the life of one student.
Prosper Owusu, a self-styled chief priest of the one of the residencies, Opoku Ware Hall, was conducting a fire ritual when he was caught up in flames and got burnt.
An X, –formerly known as Twitter –account known as 'Male Halls' which reports on activities of male halls at the various universities posted the video and reported that Mr. Owusu's regalia caught fire whilst performing incantations.
"The Chief Priest of the Opoku Ware Hall in AAMUSTED has been admitted to the Okomfo Anokye Teaching Hospital after his traditional regalia caught fire during incantations as part of the hall's activities. Let's keep him in our prayers," the tweet indicated.
A video available online shows the young man running around for his life on campus with his attire on fire.
He was admitted at the Komfo Anokye Teaching Hospital and gave up the ghost in about a week's time.
"We are deeply saddened to inform you about the tragic loss of the Chief Priest of Opoku Ware Hall in AAMUSTED, who was involved in a fire outbreak six days ago. Unfortunately, the student passed away this afternoon at the Okomfo AnokyeTeaching Hospital. Our thoughts and condolences go out to his family, the Traditional Council of Opoku Ware Hall and the entire school community during this difficult time. RIP Chief Prosper Owusu," an X post indicated.
‼️ BREAKING NEWS ‼️
The Chief Priest of the Opoku Ware Hall in AAMUSTED has been admitted to the Okomfo Anokye Teaching Hospital after his traditional regalia caught fire during incantations as part of the hall's activities. Let's keep him in our prayers. pic.twitter.com/0cL0a6jocm

— Male Halls Official 🏴‍☠️ (@malehallsgh) August 26, 2023
READ ALSO: 'If this happens to my son, we'll burn down the school, I'm prepared to go to jail' – Prof. Gyampo on ADISCO students' incident