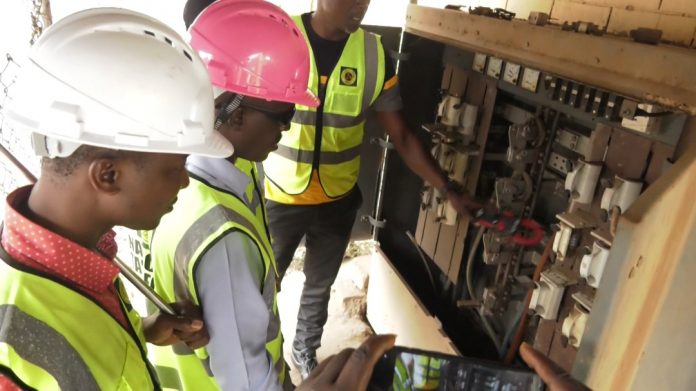 The Electricity Company of Ghana's office in the Western Region recovered over three million cedis out of a debt of eight million cedis from its defaulting customers in the Sekondi Takoradi Metropolis in the first day of a two-week revenue mobilisation exercise.
Other customers who could not agree on any repayment plan had their electricity supply knocked off.
The revenue mobilisation Taskforce in the Western Region with compliment from the National Taskforce are embarking on a two-week debt recovery exercise in the region.
The team will be moving on all defaulting customers to recover their debt and also check the integrity of their service metres to determine whether they are paying for the right amount of energy consumed.
Customers will be required to pay on the spot, agree on a debt schedule for repayment or have their electricity supply knocked off.
Western Region Commercial Manager of ECG Emmanuel Sam said the company was in dire financial straits and will recover every debt owed it.
"For customers in the region to enjoy uninterrupted power supply, we need to raise and honour a payment of thirty million cedis every week and this translate into six million cedis a day. And if we are not able to raise that then there is a danger. As I speak due to our debt portfolio we are in danger. For the SLTs, we are doing close to 80 per cent of payment. But for the Non SLTs, including small medium scale enterprises and the residentials, we are struggling to even get 60 per cent. This tells you we have to up our game because if we don't, a time will come that we will not be able to have what it takes to serve our customers. So, this exercise is very crucial," Mr. Sam said.
Wood processing company John Bitar on seeing the mobilisation team raised a cheque for 1.4 million cedis to defray its debt of GH₵1.3 million. The Takoradi Technical University paid 700 thousand cedis out of its debt of GH₵3.9 million cedis and agreed to honour a debt schedule for repayment.
Other companies including Port of Takoradi, Ghana Gas, Bank of Ghana and Ghana Water Company Limited paid substantial part of their debts and also agreed to a debt schedule for repayment.
"It is unfortunate that these entities are behaving this way. We always wish that they are prompt when it comes to the payment of their bills and debts owed us. With this exercise, we are looking at those who have been recalcitrant in settling their debts owed us. So, what we are going to do now is that those who have settled everything, we just hope that they pay promptly going forward so we don't get into this situation again. And for those who were not able to pay everything, which of course most of them have paid 60 percent, we have given them a debt schedule, a very friendly one and we expect they honour the arrangement," he added.
Western Region Revenue Protection Manager of ECG John Quayson mentioned that persons who give credible information leading to the arrest of customers using electricity illegally will earn 6 percent of the monies that will be recovered.
"We want to assure anyone who will give such useful information that their identity will never be disclosed. And that their reward will be prompt. We want to serve our customers better and we will want our customers to help us to serve them better. So, if they become aware of any thing that will hinder this, then they should not hesitate to inform us," he urged.
By Eric Yaw Adjei|ConnectFM|Onuaonline.com