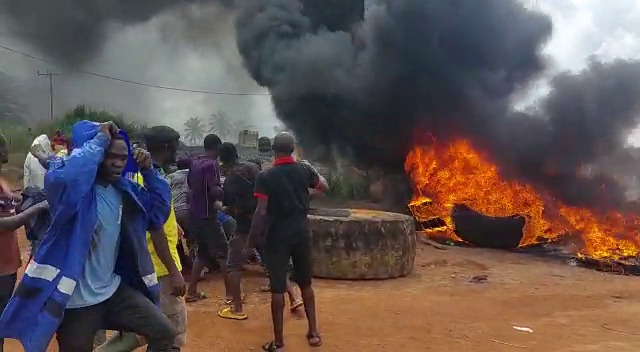 Scores of residents of Mpohor have blocked the main road leading to the district capital over its deplorable state.
The residents lament using the road has become unbearable and affecting their daily economic activities.
A sod was cut for the construction of the main Mpohor road in 2019 much to the joy of residents.
Unfortunately, work did not go on according to the expectations of the residents. The contractor was only able to do 10 per cent of work in 12 months. After several complaints, the contract was abrogated.
The contract was re-awarded in 2021 but work is yet to commence. Residents say they have had enough. Scores of them have blocked the main road with metal spikes and burning tyres. This is what some of the residents told Onua News.
"The motorists plying the roads from Mpohor to Kejebiri and Adum Banso to Mpohor are suffering to the deplorable state of this road. We are aware that they have given it to a contract with a company by name JUSTMORE Construction. But it seems he is playing with our minds in the sense that he comes on site at the time he wants. What pains us is that he has taken all his machines from the road, aside from all these, the Amandi company truck is also disturbing us on the roads"
According to them until they hear something convincing, they are willing to demonstrate for a week.
"This is a main road leading to Takoradi look at how the road is. We can no longer wait again. Until we see the contractor on the site we are not leaving this road," another protestor added.
Western Regional Minister, Kwabena Okyere Darko Mensah answering a question at a meeting with the Regional House of Chiefs expressed optimism that work on the road will advance before the end of this year.
"After the president cut sod for the construction the contractor came and only work for one Year and he left the site so we rewarded the contract to JUSTMORE CONSTRUCTIONS which he has done almost 60% and promised to mobilise and come back to continue. So all other things being equal, the Mpohor road will see asphalt this year"
By Ebenezer Atiemo|Akoma FM|Onuaonline.com|Ghana