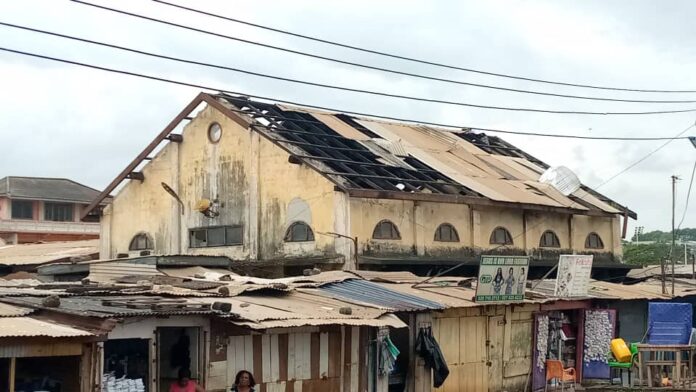 Authorities of the Sekondi Takoradi Metropolitan Assembly (STMA) have blocked the National Democratic Congress (NDC) parliamentary candidate for Sekondi, Blay Armah Nyameke from fixing the dilapidated roofing of the Sekondi market.
The season is currently causing havoc in the Sekondi market as traders are forced to close their shops whenever it rains. Portions of the market are currently not in the best of shape.
One could see from afar that parts of the roofing has been ripped off. The situation has remained like that for some years now but the traders are now facing the impact since the rains set in.
Mr. Nyameke indicates that he consulted the Coordinating Director of the Assembly and informed him of his intention to fix the roofing of the market for the traders but was prevented.
READ ALSO: W/R: Sekondi Takoradi residents fear business collapse due to high tariffs
"I have seen how the traders are suffering and the rainy season has worsened the situation. Most of the traders can't sell whenever it rains so I went to see the situation and decided to fix the roofing for them.
"The administrator in the market initially told me to forget about my plans because I will not be allowed. I followed it up with the Coordinating Director who told me my plans cannot come to pass," he told Wofa Ato, sit-in host of Connect FM's Omanbapa Morning Show.
According to him, the Coordinating Director was emphatic that the assembly has plans of fixing the market in the future.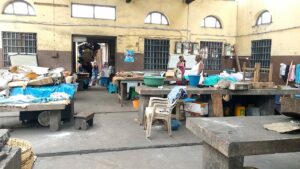 "He said they have sent estimates of the market to the Finance Ministry and that they have plans of redeveloping the market to a modern status so even if they allow me to fix it, my investment will go waste. But it is my money and even if I fix it today and it is taken off tomorrow, I won't be bothered. The traders are suffering and the plan they are talking about did not start today. They have been promising to fix it over the years but nothing has happened there and the traders are suffering. A temporal solution is needed for now," he lamented.
The Public Relations Officer of the Assembly, John Last indicated that the assembly has earmarked the market for demolition. He adds that allowing any investment into the market will later go to waste.
"We have a programme dubbed the Sekondi Takoradi Integrated Market Development and we have already submitted the concept note and all proposals to the Finance Ministry through the Ministry of Local Government. So, we already have a programme for the market, it has been planned for demolition. The Coordinating Director told them the assembly will not encourage any investment that will later go to waste," he indicated.
Meanwhile, Mr Nyameke believes he is being prevented from finding temporal solutions for the market due to political reasons.
READ ALSO: Sekondi: Fishers bemoan supply of premix to MMDCEs to sell at exorbitant prices