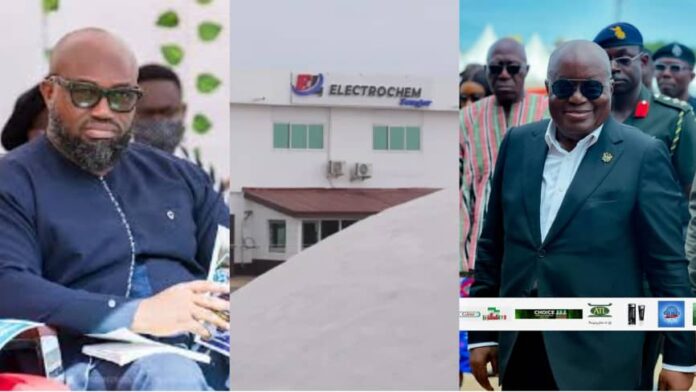 President of the Republic, Addo Dankwa Akufo-Addo has caught the fancy of Ada residents "to continue to give maximum support to the activities of Electrochem."
According to the President, such support will hep rid the community of the employment deficit.
"…And in so doing, we'll also be able to respond to some of the matters that Nene, you put on the table; environmental preservation and global warming and the search in the sea," he indicated at the grand durbar of the 2023 Asafotufiami Festival celebrated by the people of Ada.
He says the project being undertaken by Electrochem, a subsidiary of the McDan Group of Companies, at the Songor lagoon I part of government's One District One Factory initiative which would help solve many of the unemployment problems bedevilling the Ada community.
READ ALSO: Asafotufiami: How the Ada people settled on name for annual festival 
"I'm happy also that the 1D1F initiative has brought a salt processing factory here in Ada and also a business resource centre. I'm saying all of these to let you know that you're on my heart. You don't vote for me but I care about you and I want you to remember that all the time," he added.
READ ALSO: Christian Atsu – A son of Ada; Captain Smart proffers means to immortalise late Ghana International
Meanwhile, the President also spoke about road infrastructure, his government's contribution to health in the area, as well as advancing in judicial matters by getting a High Court for the first time in the area.
"About the development of the road infrastructure, a lot has been done about roads in the country but there is still a lot more that would be done and you can be sure that our government will not leave out the people of Ada.
"The same way the health facilities challenges that you're facing are things that we are addressing systematically. The District Chief Executive spoke about the establishment of an Agenda 111 project in Sege, in this same Ada East district which is almost 40% complete and my understanding is that by the end of this season, it will become complete.
READ ALSO: Akufo-Addo finds solace in McDan over Ada indigenes cry for jobs
"I'm happy we are now for the first time in the history of the district a high court here in Ada to advance the rule of law in our country. I'm also happy that the gala programme which the Ministry of Education is doing with the World Bank to address poor educational standards in some of our less well-endowed schools is also working here in the Ada area and I believe that very soon we'll see an improvement in the educational outcome of schools in these areas and that the poor outcomes that you've had up till today will be a matter of the past," he noted.