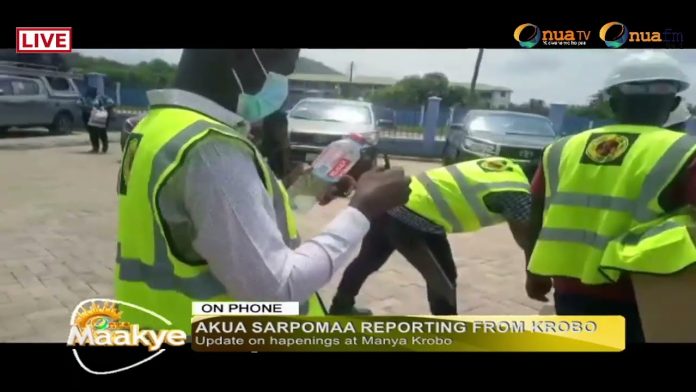 Chief of Okwenya in the Lower Manya Krobo municipality, Nene Sakinor Olepeme is calling for an investigation into activities of ECG management in the area.
Nene is calling on President Akufo-Addo to set up a committee to investigate what he calls the shady deals of the management of the Electricity Company of Ghana (ECG) that caused the mayhem between them and the residents in the community.
He says the ECG management are thieves, and are bent on doing everything to cover their tracks.
His comment follows the deployment of military personnel to the area to install prepaid metres.
"The ECG people here are thieves so the President should set a committee to investigate the Management of the ECG here."
"We believe they're covering a secret. Because they told us if we're supposed to pay GH₵200.00, their machine adds a zero to make it GH₵2,000.00. They account for only ₵200 to government and keep the ₵1.800. That is the money they're using to build their big houses. They don't want to be investigated," he told Onua TV's roving journalist, Akua Sarpomaa at Okwenya whilst speaking on the Thursday edition of Maakye.
Management of the ECG began a prepaid metre installation at Krobo land on Tuesday, June 14 with a military escort after a long standing brawl between residents of the area and the power distributors over some outstanding tariff.
The residents vowed to resist the installation of prepaid metres while calling on ECG to write off debts owed by customers in Krobo from 2018 to 2021 due to some decades-old pact between their forefathers and Government of Ghana for using their land to set up the power generation grounds for the country.
This resulted in a clash which claimed three lives and injured many, including then 18-year-old lady whose leg was amputated.
But Nene Olepeme insists the ECG and MCE didn't dialogue with them on the initiative, but rather pushing it through their throat to cover up some extra bills they have been pushing on them to pay.
"ECG at Krobo didn't deal with us well. From 2014 we realised they were giving us wrong bills. When we confronted them, they told us they have problems with their software. But they added the extra bills for us to pay," he indicated.
Listen to Nene in the video below;
By: Felix Anim-Appau|Onuaonline.com|Ghana