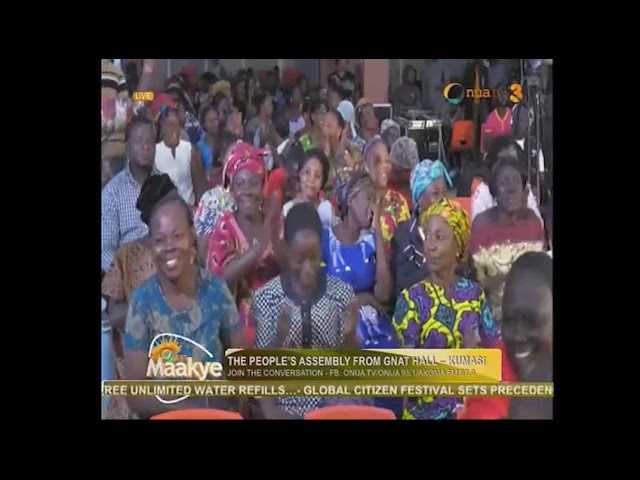 About 90 per cent of participants who had the opportunity to speak at the maiden edition of Onua TV/Akoma FM Peoples' Assembly held at the GNAT Hall in Kumasi Wednesday, September 28, 2022, said the Akufo-Addo government has done so well.
According to the residents, the NPP administration led by President Akufo-Addo and Dr. Bawumia has given them relief and development they have never seen in any government.
They said their roads have been fixed and are being fixed,they have been given MASLOC to expand their businesses with their wards enjoying free secondary education amid One District One Factory and others.
But when a resident by name 2nd Samuel decided to share his experience based on the current economic conditions and how the cost of living is biting him personally, the others had to give him his version of Akufo-Addo's booing and "away" "away" chants.
According to 2nd Samuel, "Things are bad. We the youth are suffering. I've done galamsey before and the gold at Manso is a lot but our roads are poor. After 8 years of completing school, things aren't working for us. We are forcing on our own but it's not easy," he noted.
"We are hungry and because things aren't going well, thieves are in abundant and they knife people day in day out," he continued.
However, many of the residents who were not enthused by his comments started booing and hooting at the young man, and toppled it with the "away" "away" chants.
It took the intervention of hosts Kofi Asante Ennin, Captain Smart, Yaa Titi and Afia Tagor to calm them down for the young man to continue.
Source: Onuaonline.com|Ghana