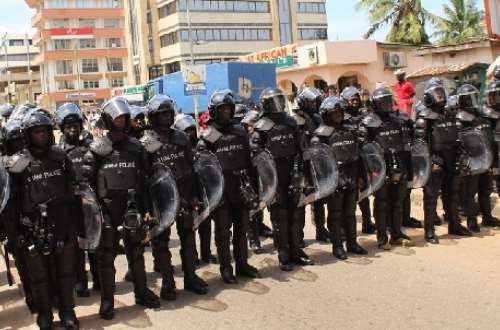 The Ghana Police Service has apologised to the public for fallouts from the OccupyJubileeHouse demo last Thursday, September 21, 2023, leading to the arrest of 49 protestors. 
The 49 demonstrators were arrested for being part of a protest to the Jubilee House, the seat of government of Ghana, to register their displeasure over the high cost of living in the country.
They were kept in custody and released a day after. But that did not discourage them from embarking on their three-day protest.
The police in a release say they are not against any person or group that wants to stage a protest but rather hold it a duty to ensure such exercises are carried out in a responsible manner without causing any destruction to lives and property.
"The Police would also like to apologize to members of the public who were inconvenienced in one way or the other, especially those who were caught up in the vehicular holdups during the demonstration.
"We would like to assure the public once again, that the Service is not against any person or group of persons who may want to demonstrate. We have a track record of providing security for demonstrations in the past and would continue to do so within the confines of the law," it said in a Sunday, September 24, 2023, statement.
In the same release, the peace enforcement agency indicated that "as the demonstration has come to an end, we look forward to meeting with the organizers for a debriefing session with them with the aim of fostering a more fruitful engagement in the future."
They also thanked the public "especially those in Accra, for their support and understanding while we worked within our mandate to maintain law and order during the demonstration."
READ ALSO: OccupyJubileeHouse Demo: Those who were arrested are heroes of our democracy – Prof. Opoku Antwi