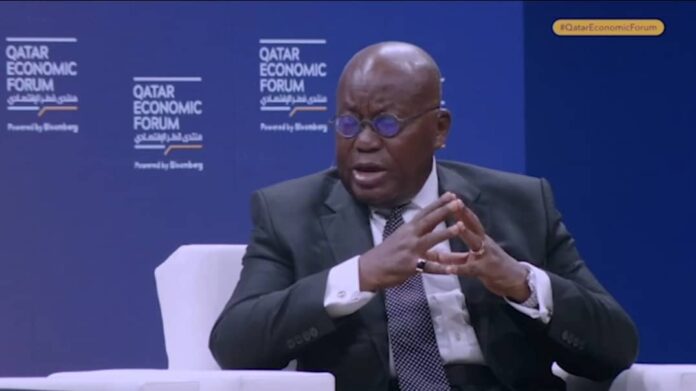 President Addo Dankwa Akufo-Addo is excited his government would be able to return to the capital market to borrow more after a successful programme with the International Monetary Fund (IMF).
The President says even though his administration has expressed the need not to rush to the capital market, it is also prudent to take advantage of global savings and the sooner Ghana adopts that, the better.
During a one-on-one session at the Qatar Economic Forum Wednesday, May 24, 2024, President Akufo-Addo said sealing the IMF deal is the setup for Ghana's economic recovery.
"…But nevertheless it's over and now we believe that it is going to provide the super foundation for redirecting the economy, repositioning the economy, firstly, to regain the micro stability that has been lost.
READ ALSO: IMF Bailout: We need some humility from the gov't to acknowledge what brought us to where we are – Theo Acheampong
"Secondly, to be able to have the best of control over importing data like the interest rate, inflation and then finally also, to position us to be able to go back into the international capital market which has been a source of funding for us for the first three or four years of our government.
"There is no rush to get back but nevertheless obviously, why can we not take advantage of global savings? It makes a lot of sense to be able to do that and the sooner we can do it the better," he was hopeful.
Meanwhile, he praised Ghana for being able to secure its facility in a record time of 10 months.
"In fact the 10 months which has been involved in the Ghanaian programme is one of the fastest on record. There is a whole lot of stuff that it has to go through; exchange of data, negotiations, making sure that the micro indices that you're looking for are in the right direction, all of these make take time," he stated.
READ ALSO: IMF report affirms Captain Smart's caution to Ghana on Chinese loan repayment