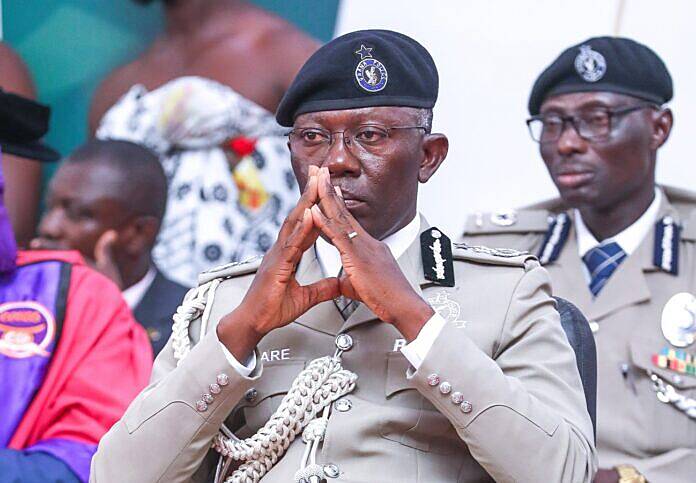 The Inspector General of Police (IGP), Dr. George Akuffo Dampare says the allegations levelled against him by the three police officers who appeared before a parliamentary ad-hoc committee affected him, his family and his command.
The IGP says he is surprised his own brothers could peddle such falsehoods against him without a shred of evidence to substantiate their claims.
"George is my big brother, Gyebi is my kid brother and Asare is my brother…..They made wild allegations against me without a shred of evidence. Those allegations have brought pain to me, my family and to my command," the IGP said before the committee Tuesday, September 12, 2023.
The Director General in charge of Operations at the Ghana Police Service, COP Alex Mensah accused the IGP of not running the service properly when he appeared before the committee.
The Police commissioner had appeared before the committee to respond to allegations captured on a leaked tape that he was supposedly a part of a plot to remove the IGP from office.
According to COP Alex Mensah, serving officers are unhappy with the IGP, adding that any independent investigation will affirm the claim.
"It is true; the current IGP is not managing the service well. And I will not deny this today or tomorrow. I will say it everywhere I go. You can do your own investigation within the service and you will know," he told the committee.
The top three police officers are before the committee to authenticate a viral tape that sought to allegedly plan the removal of the IGP from office.
The recording which was made in the Accra office of a former Northern regional chair of the NPP, Daniel Bugri Naabu, said the IGP was going to block the NPP's chances of rigging the 2024 elections to victory, the reason he ought to be changed.
READ ALSO: Who am I to pass comment on Dampare in public? – Supt. Asare opts for in-camera hearing to answer some questions