Acharf Hakimi reportedly denied his enstranged wife the right to any of his cash or property, instead moving all his assets to his mother's custody. Here's what we know about the Moroccan's mother.
The pacy and skillful Moroccan full-back has managed to establish himself through the years having represented clubs like Real Madrid, Borussia Dortmund, Inter Milan and now, Paris Saint Germain.
However, the 24-year-old defender now faces one of the toughest moments in his career.
Hakimi is currently charged with rape following accusations by a 24-year-old lady last month and has also seen his marriage all but crash in the aftermath of the allegations as his wife Hiba Abouk seeks to divorce him.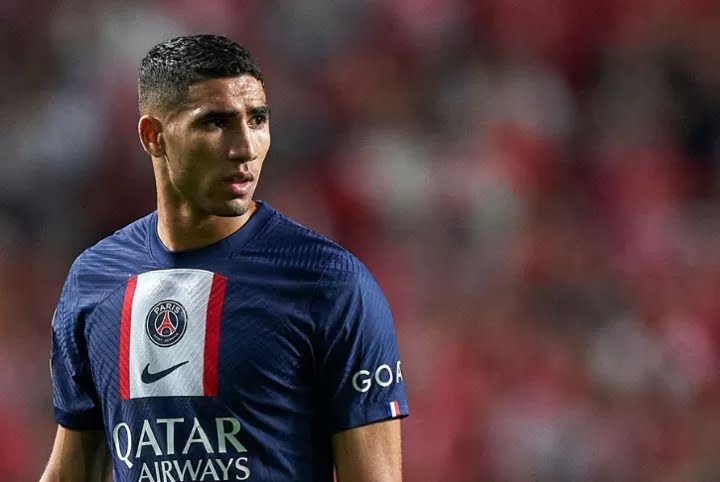 The pair who are legally separated is currently undergoing the process of finalizing their divorce.
READ ALSO: Morocco and PSG star Hakimi accused of rape; lawyer refutes allegations
However, a report yesterday emerged that during the court proceedings, the estranged wife of the footballer found out through her lawyers that Hakimi's bank accounts were empty as he had transferred all his money and assets to his mother's name, leaving the Spanish Tunisian actress nothing to part with.
Pulse Sports cannot verify the authenticity of this claim as neither Hakimi nor his wife, Hiba confirmed the report.
In this article, we will be profiling Achraf Hakimi's mother who has gone viral again after the latest reports surrounding the PSG star's divorce.
Who is Achraf Hakimi's mother?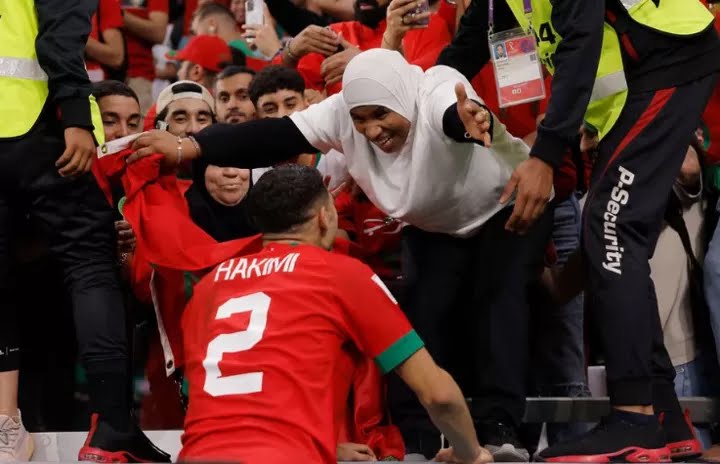 She first came to the limelight as she got famous for the picture where she was kissing her son after Morocco's shock win over Spain in the Round of 16 stages at the FIFA 2022 World Cup.
Mouth resides in Madrid with her family as she and her husband are Morrocan immigrants who settled in Spain.
READ ALSO: IMF Boss has become a spokesperson for Ghana's economy – Prof. Gatsi
However, she was born in Morocco, as was her husband Hassan Hakimi, before they moved to Spain.
Asides Hakimi, Sadia has is blessed with two other children, a son and a daughter.
Mouth has two grandchildren; both of whom are the children of Hakimi and his wife, Hiba Abouk, Amín (3) and Naim (1).
Sadia Mouth first went viral on social media during the 2022 FIFA World Cup in Qatar while supporting her son, Achraf Hakimi who was on duty for the Morocco national team.
She celebrated joyously with her son after he helped his nation record a famous victory against 2010 champions Spain in the Round of 16 stages of the competition.
Why did Achraf Hakimi will all his assets to his mother, Sadia Mouth?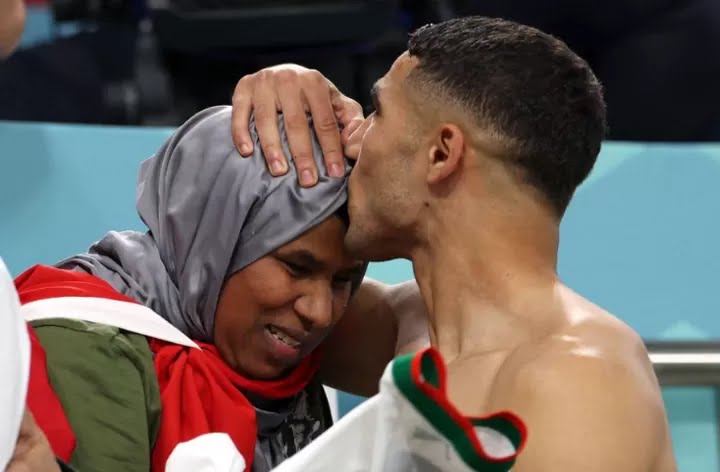 Unconfirmed reports claim that Hakimi had transferred all his assets and property to his mother's name amid the ongoing process to divorce his wife Hiba Abouk.
READ ALSO: One dead, another injured after two young ladies had accident on their way from a nightclub
Pulse Sports previously reported that Abouk and Hakimi have been legally separated for a while, prior to his recent rape allegations, but the pair's divorce is yet to be formally concluded neither has it been made official.
If the report is true, then the reason why Hakimi would have made that gesture is believed to be due to unforeseen circumstances.
However, the actual reason behind the player's action is still unknown.
Either way, his estranged wife Abouk, is not expected to struggle financially should the reports prove true as she has already made a decent career out of her modelling and acting gigs.
Achraf Hakimi's family
Hassan Hakimi and Sadia Mouth are the parents of Morrocan football star Achraf Hakimi.
His father used to work as a street vendor, and his mother as a cleaning maid in people's houses.
READ ALSO: Commercialization, profiling of young Oswald regrettable – Child Online Africa
Achraf talked about their occupations in an interview in 2018 about his time at Borussia Dortmund.
He has a brother named Nabil Hakimi and a sister named Quidad Hakimi.
As per First Sportz, his brother works for Footfeel, a company that provides facilities and specialized functioning to football players.
Ouidad Hakimi, on the other side, is quite famous on Instagram, with over 659K followers.
She posts a lot about traveling and her family, with her occupation yet to be identfied.
Source: All Football