The Electoral Commission (EC) says the by-election to elect a new Member of Parliament for the Assin North constituency is slated for Tuesday, June 27, 2023.
The by-election follows a Surpreme Court directive to Parliament to expunge, from their records, details of the former Member of Parliament, James Gyakye Quayson, after a ruling on his citizenship status found him guilty.
This is because the court found him to be a Canadian citizen at the time he contested and won the seat in 2020.
Parliament on Tuesday, May 30, declared the Assin North seat vacant after the Supreme Court order.
In compliance with Article 112 (5) of the Constitution, as amended, the Electoral Commission issued a statement on Wednesday, May 31, confirming the date of the by-election.
READ ALSO: Kumawu by-election: NDC candidate accuse opponent of votes buying
It says "interested individuals who wish to contest for the seat must submit their nomination forms at the Assin North District Office of the Commission between Monday, June 12, 2023, and Wednesday, June 14, 2023."
The submission hours are scheduled from 9:00 am to 12:00 pm and from 2:00 pm to 5:00 pm on each day.
The statement further states that "aspiring candidates are required to pay a filing fee of GH¢10,000 to complete their nomination process."
Below is the EC's full statement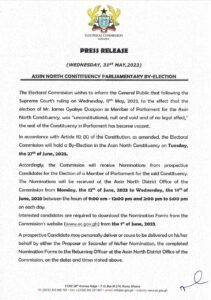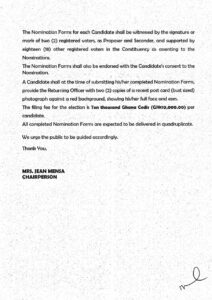 READ ALSO: Accra: Man electrocuted to death after Tuesday dawn heavy rains