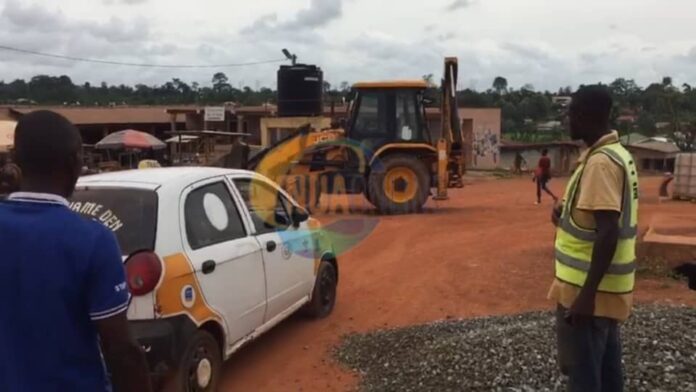 The Chief of Assin Dansame, Dr. Nana Okofo Twum Barimah V, has expressed disappointment in the NPP government for channelling all the alleged by-election projects to Assin Breku, the capital of the Assin North district.
According to him, unexpected projects such as road construction, astroturf, community centre and others which were abandoned several years ago at Assin Breku are now under construction just a day after the Electoral Commission announced June 27, 2023, as the date for a by-election.
"Meanwhile, the government has neglected communities such as Assin Dansame, Assin Praso, and Asempanaye which also have similar projects but have been abandoned for years," the chief lamented.
He reiterated the fact that he and his people are not happy about the egregious discrimination of development and assured them that they will definitely vote against the NPP if they fail to develop other areas which form part of the Assin North constituency.
READ ALSO: Assin North by-election to come off Tuesday, June 27
"Frankly speaking we are disappointed in the leadership looking at what's going on in Assin North. When you come to my hometown, Assin Dansame, I provided a space for a community centre and helped the contractor who should have completed the project but he left it. So we were expecting them to continue as the by-election nears but this is the case where all the developments are going on at Breku and they are taking us the remaining towns for a ride," he lamented.
Nana Twum Barima told Rich FM's Adwoa Benyiwaa Kwanimaa who also reports for Onua TV that this is the opportune time to extend development to all areas within the Assin North constituency since most of the schools in the area are in a very deplorable state.
"They can build schools, Agric centres and do other projects in the other communities but the assembly is not even thinking of doing any of them. We want them to use this by-election to let the contractor complete our abandoned contract because after the by-election, it will be a different issue," he concluded.
READ ALSO: Assin North accusations false, aimed at maligning integrity of Commission – EC refutes claims of inserting unqualified candidate in register for by-election