Son of Kwadwo Agyei Agyapong, one of three High Court Judges who were abducted and killed during the Third Republic, Kwabena Agyei Agyapong, has said he has no issues with late President Rawlings who is alleged to have ordered for the gruesome murder of his father.
He says the incident, even though painful, especially considering the rapport between him and his father as the first male child was a hard time for him, he needs to let it go.
Speaking with Captain Smart on Maakye Wednesday, May 10, 2023, the NPP flagbearer hopeful said he has learnt from history to forgo certain things.
"I don't have anything against him. Wherever I met him, I chatted with him. The last time Haruna Atta's wife –Nana Konadu's sister –died, she came to my house and we all attended. In life as we move on, we have to heal. There are certain things that didn't go well but we learn lessons from history," he indicated.
Some three High Court Judges namely; Kwadwo Adjei Agyapong, Poku Sarkodie and Cecelia Koranteng-Addow together with Samuel Acquah, a retired Major in the Ghana Armed Forces, were abducted and shot dead.
Had it not been for a downpour that night of June 30, 1982, their bodies, which were set on fire, would have been burnt to ashes.
READ ALSO: Prof. Sarpong lists top five (5) candidates that would likely make the final stage of the NPP flagbearership race
READ ALSO: 'Where is your integrity?' – KKD blasts Ofori-Atta after recalling minister's 10yr-old lecture on integrity deficit
What all three judges had in common was that they had reviewed cases of the Armed Forces Revolutionary Council (AFRC), an earlier military regime led by Jerry John Rawlings.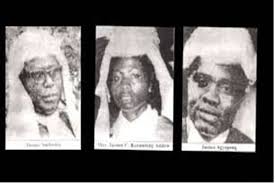 The military officer, Major Acquah, who was killed alongside the judges, was involved in the dismissal of Amartey Kwei, a member of the PNDC from Ghana Industrial Holding Corporation (GIHOC) for partaking in a Rawlings-instigated protest.
The soldiers sentenced to death and killed for the crime said they were carrying out orders of the state.
Mr Rawlings and his National Security Advisor, Captain Kojo Tsikata, have vehemently distanced themselves from the atrocities.
Meanwhile, Sgt Akata-Pore spoke from his base in the United Kingdom.
For Mr Akata-Pore, a lot more would have been uncovered if persons, he described as "critical" were investigated.
Although the former president appeared at the National Reconciliation Council (NRC), the former soldier said the killings will not go away until specific questions were answered.
Much of these answers, in his view, were with former president Rawlings because he knew more than anyone else.
"The Chairman (Rawlings) had a lot to do about it but he was not called to be investigated. How can the investigation be complete if persons of critical interest to the case have not been interviewed," he queried.
READ ALSO: Ministerial approval: If my father was alive, he would have made us swear by Antoa – Zanetor Rawlings