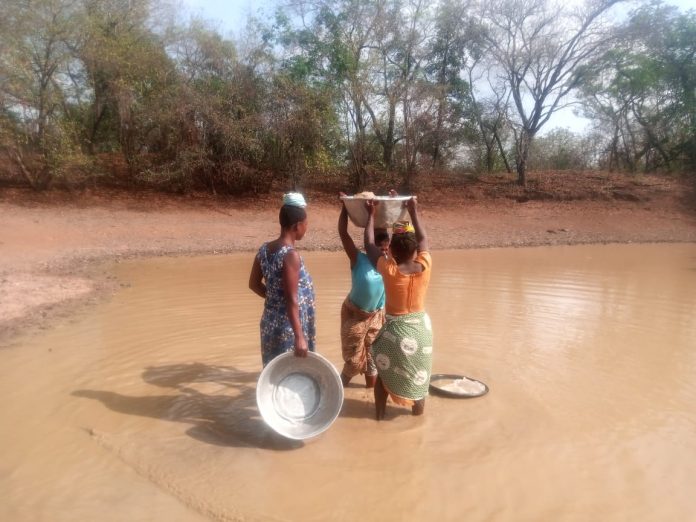 About four communities in the Kintampo North municipality of the Bono East region are currently battling with water crisis as their dugouts –the only sources of their drinking water have almost dried up.
The small farming communities; Mahama Akura, Atta Akura, Bawa Akura and Jato Akura, all on the Kintampo – Tamale highway have, as a result of the severe water shortage, resorted to buying and transporting gallons of water with motorcycles and bicycles from Babato Kumah, Chirenda and streams far away from their communities for their daily consumption.
None of these communities, according to residents living there, have a single borehole or any reliable source of clean water for drinking, washing and other domestic activities.
READ ALSO: 8-year-old boy suffers buttocks wounds after stepmother forces him to sit on hot water at Abokobi 
The only two sources of water available to them are dugouts (one in Tahiru Akura and another in Mahama Akura) which they say were created by themselves. The Mahama Akura dugout serves Bawa Akura, Jato Akura and Mahama Akura itself whilst the Tahiru Akura own serves the residents of that community only.
These dugouts are currently almost dried up leaving only a small quantity of water in them.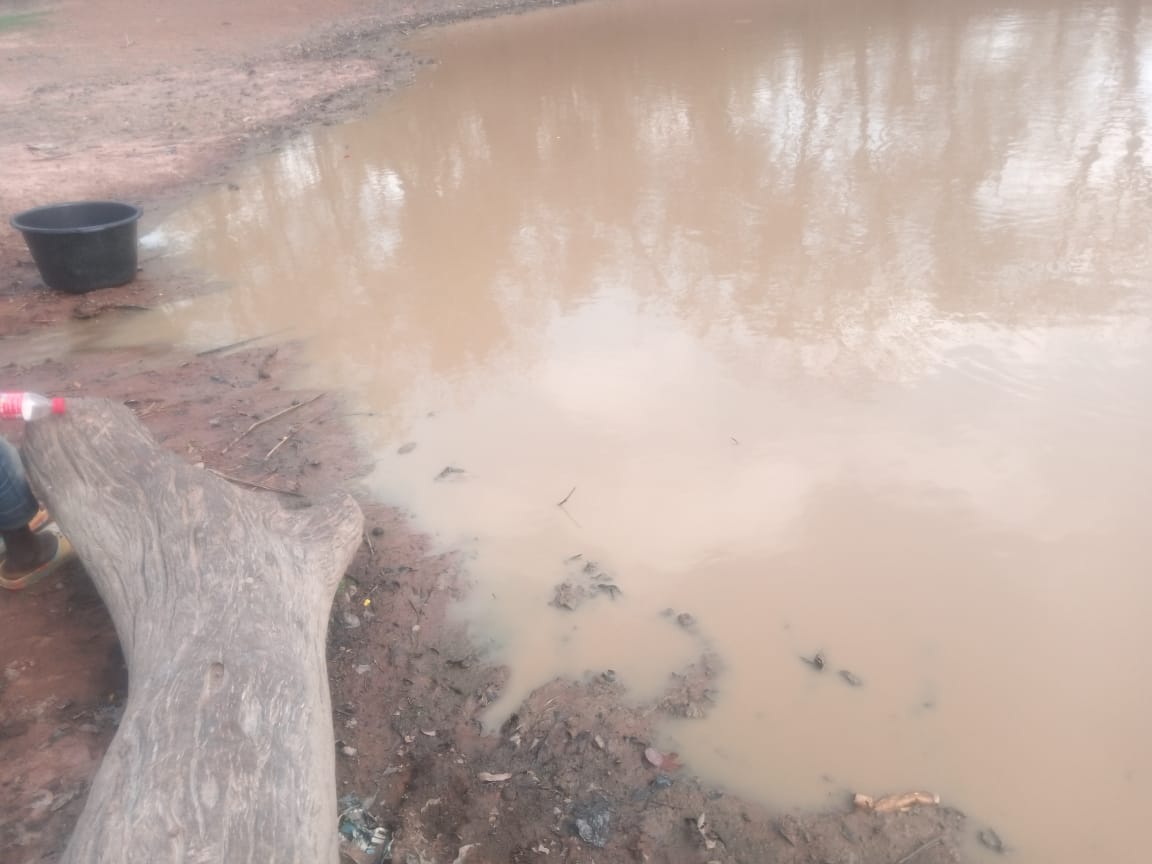 As a result of the drying up of the dugouts and the sharing of the little stagnated available water in them with cattle, goats, sheep and other animals by those who cannot afford to buy or go far away in search of water, residents of these communities are highly exposed to typhoid and other waterborne diseases.
The assembly member for Tahiru Akura Electoral area in an interview with Kintampo Radio's Adams Wumpini said few persons with motorcycles transport water into the communities and resell to those who can afford to buy.
READ ALSO: Perceived food shortage due to Russia-Ukraine war, Covid-19 – Agric. Minister
He said the worrying part of this is that, majority of the dwellers in these communities who cannot afford to spend money on buying water mostly walk several kilometres from home to a certain stream at the South East part of the communities for water or rely on the filthy stinky water from the dugouts.
Women and children, mostly with their head pans, buckets and Gallons are often seen early in the morning or late in the evening rushing for the dirty brownish coloured water from the dugouts.
Sometimes, men with bicycles and motorcycles do help their women fetch water from the stream far away from the towns, a situation they describe as extremely challenging.
The situation, according to the residents, leads to some teachers refusing postings to the area or cut their stay short even when they agree to go.
The assembly member of the area, Alhassan Tikuni, in the interview, after narrating the ordeal his electoral area passes through, said several efforts he made towards finding a lasting solution proved futile. He, thus, called on authorities as well as NGOs and philanthropists to, as a matter of agency, intervene.
READ ALSO: Kintampo indebted to you for your good works – Chiefs to Akufo-Addo
"We face a lot of water challenges here. The dugout you are seeing here was created by us, the community members through communal labour in the 1970s. And this water here has been our everything since that time until now. During a dry season like this the, this dugouts dries up. And when that happens, unless we go to Babato to buy water or we travel about 5 kilometers to Tahiru Akura East around the Kunsu area to fetch from a stream.
In the past, it was only those with bicycles who got water to drink. Those without bicycles used to beg for water to drink but now because of the emergence of motorcycles, those who have some always go to fetch the water from afar so that those who have money to buy will buy and drink. So it's creating a lot of problems for our women and even us, the men because we have to help the women search for water.
Students cannot even go to school because if they bath with the dirty water it looks as if they don't bath at all and when they go to school, they will be shy to sit in the classroom to learn. So if community members have been able to use their energy to dig something like this, why can't government do it better," he lamented.
READ ALSO: 'We were influenced by social media, we are sorry' – One of Chiana SHS sacked girls begs Akufo-Addo for mercy
The chief of Tahiru Akura, adding his voice to the assemblyman's said:
"Since this community was established, we have been facing these water challenges. During dry seasons like this, the water vanishes. We don't get water to drink. The kind of water we drink is what we share with animals. Students have to travel far away to fetch water to bath before they can go to school. When those with the 'Aboboyaa' fetch the water and come, they sell to us 3GHC per Jerrican. Both NDC and NPP come and go but we don't see help. So we are on our knees appealing to the President, Nana Akufo Addo to get us water."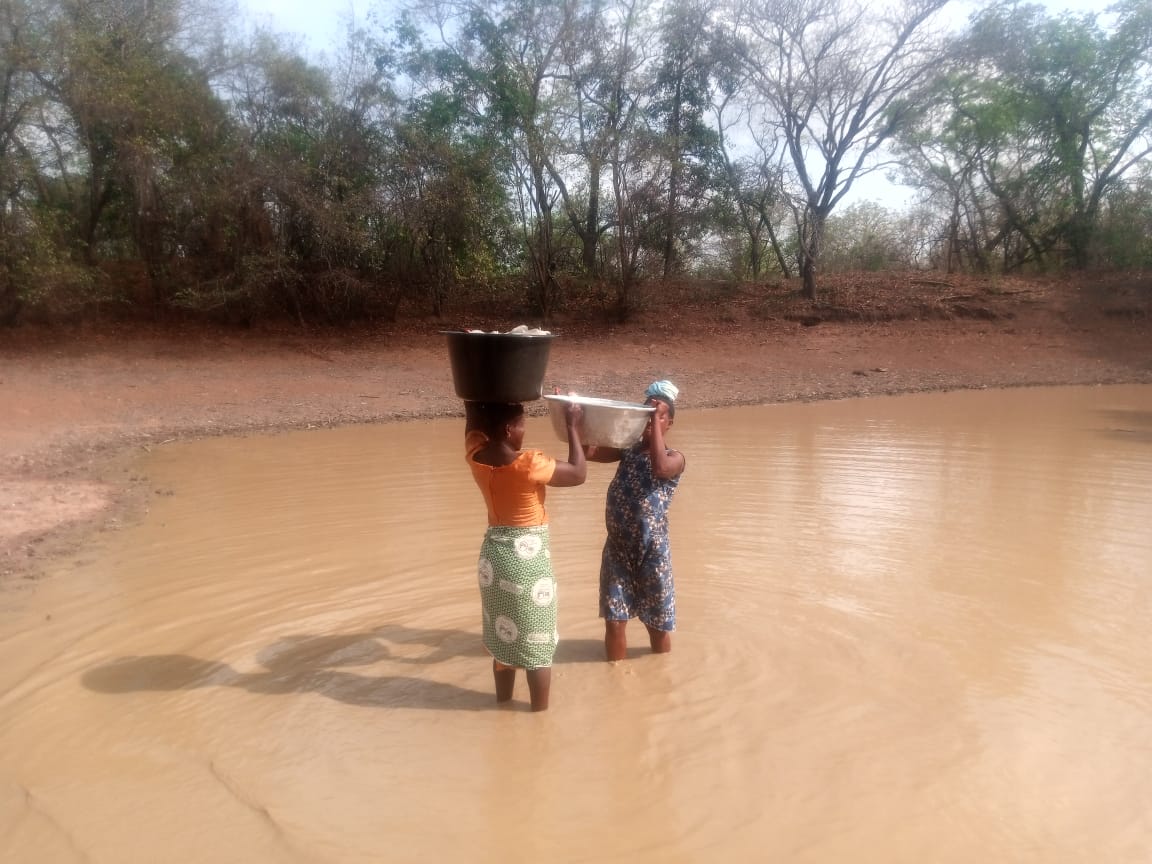 For his part, the chief of Mahama Akura, Nana Kwasi Bitignan, speaking on behalf on his own behalf and on behalf of his counterparts in Bawa Akura and Jato Akura, said the water situation has led to some residents contracting typhoid diseases and some students being punished by their teachers in school due to lateness. He said successive governments seem to have neglected them for far too long and threatened that they will not vote in any national elections again if their water problem is not tackled.
READ ALSO: PURC provides potable water for pro-poor communities
The chief of Mahama Akura said "we are farmers here in Mahama Akura producing all kinds of foodstuffs like yam, maize, rice and groundnuts but if you look at us, it's as if we are not part of Ghana. If you give the water we drink here to even a pig, it will tell you it won't drink. Our children of school going age travel to far places to get water to bath before they go to school. Sometimes, their teachers beat them because they go to school late. So we are appealing to government to help. Or the question we ask is, are we not part of Ghana?
Some of us go to the health facilities and when they test us they say we have typhoid. The typhoid is here and they should have mercy on us. If we don't get the water, we won't vote again."
Some members of the communities who shared their plight also threatened not to vote again should authorities fail to provide them with potable water.
Meanwhile, both the Kintampo North Municipal Chief Executive, Isaac Baffoe Ameyaw and the Member of Parliament of the area, Joseph Kwame Kumah, have confirmed in an interview that government is fully aware of the situation and working hard to resolve it.
READ ALSO: Some Ghanaian ministers now import water from London due to galamsey – Captain Smart reveals
The MCE, for instance, noted, however, that government's effort to getting those communities boreholes has not been successful owing to the nature of their land. He said they tried drilling some boreholes but could not find water in the ground. He said, therefore, that a decision made previously to pull water from Babato to the area hit a snag due to cost issues but quickly added that the assembly under the government's Safety Net" project is hoping to construct reliable dams for the communities.
Source: Onuaonline.com|Ghana