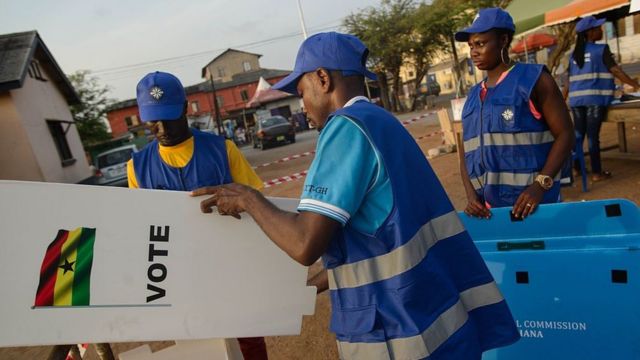 Kumawu constituents go to the polls today, Tuesday, May 23, 2023, to elect a Member of Parliament to represent them for the remainig sessions of the 8th Parliament.
The by-election is a by-product of the demise of their legislator, Philip Attah Basoah, whose funeral took place on May 20.
The polls, like any other by-election, has attracted nationwide attention following the numbers in Parliament for both parties making the Majority and Minority caucuses taking the exercise beyond any other poll.
READ ALSO: The other Kwaku Duah bearing almost all my details is my brother – Kumawu Independent PC reveals
READ ALSO: Kumawu by-election: EC says Notice of Poll circulating on social media is fake
In 2020, the late MP won the election with almost 15,000 votes with Independent Candidate Kwaku Duah getting over 11,000.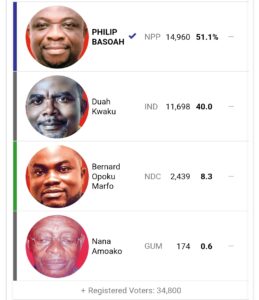 Coming into the by-election, another independent candidate by name Kwaku Duah joined the race after the balloting and presented same details to the Electoral Commission (EC).
This was revealed after a notice of poll was issued and went viral on social media. But the EC later clarified that the flyer was fake because those details were only a draft presented to the Commission by their district office.
The symbol of the second Kwaku Duah which was a dove like the first one was changed to a hoe by the EC.
Meanwhile, the first Kwaku Duah who garnered over 11,000 votes in the 2020 polls said the latest candidate bearing similar details as his is his family member who has allowed himself to be used by some political party to neutralise his votes.
The New Patriotic Party has taken over Kumawu for some days now buying votes from the constituents with cups of rice, pieces of cloth and other items.
Some images going viral on social media has NPP faithful on their knees begging residents to vote for their candidate, including the regional Chairman, Bernard Antwi Bosiako, a.k.a. Wontumi who went on his knees at a gathering of voters to secure their votes for the NPP.
The Chief of Staff, Akosua Osei Frema Opare was seen on the markets speaking to traders to get their candidate to Parliament.
Former President John Dramani Mahama and other stalwarts of the opposition National Democratic Congress also took the constituency by storm to campaign for their candidate.
Former Finance minister Dr. Kwabena Duffuor who pulled out of the NDC presidential primary and hails from Kumawu joined in the campaign for Kwasi Amankwah, the NDC candidate.
Over 34,000 eligible voters are expected to vote today to elect a new lawmaker.
READ ALSO: Kumawu by-election: Nobody can influence me with money – Kwaku Duah