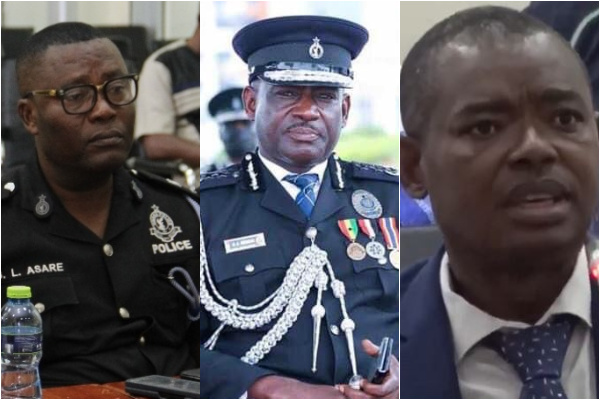 The Ghana Police Service has rescinded the interdiction of three of its officers who are involved in the tape allegedly plotting the removal of the Inspector General of Police (IGP).
An earlier statement issued by the Public Affairs Unit of the Service Thursday, September 7, 2023, said "the Police Service has interdicted Commissioner of Police (COP) Mr. George Alex Mensah, Superintendent Mr. Emmanuel Eric Gyebi and Superintendent Mr. George Lysander Asare in connection with the audio tape which has become a subject matter of investigation by Parliament."
Meanwhile, another statement issued same date from the police said the decision has been reversed.
"Following the interdiction of COP/Mr George Alex Mensah, Supt/Mr Emmanuel Eric Gyebi and Supt/Mr George Lysander Asare in connection with the leaked audio tape, the Police Administration would commence disciplinary proceedings into their conduct upon completion of the ongoing probe by Parliament," the second statement noted.
READ ALSO: Who am I to pass comment on Dampare in public? – Supt. Asare opts for in-camera hearing to answer some questions
Even though the police had said the action was "to make way for disciplinary proceedings into their conduct in line with Police Service regulations", the second statement said the interdiction was reversed to avoid prejudicing the matter.
"In order not to prejudice the ongoing probe, the Police Administration has suspended their interdiction," the statement added.
The IGP, Dr. George Akuffo Dampare had been discussed on the tape as posing as a threat to the fortunes of the ruling party in the 2024 elections.
A former NPP Chairman of the Northern region, Daniel Bugri Naabu, in whose office the tape was recorded has confirmed that he was the mastermind behind the act.
Meanwhile, the officers involved have told the committee the tape has been doctored.
The committee is still hearing the matter.
READ ALSO: IGP ouster plot: Supt. Asare alleges Bugri Naabu recommended three 'Mallams' to fight Dampare spiritually